Housing proposal for next year features across-the-board rate increases for on-campus living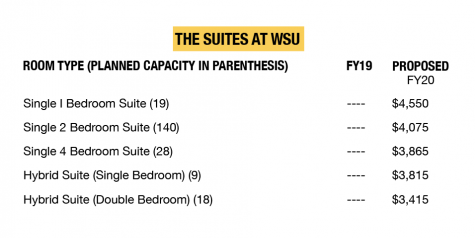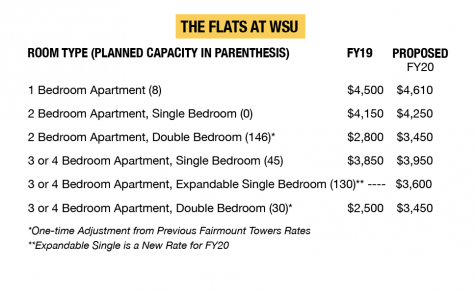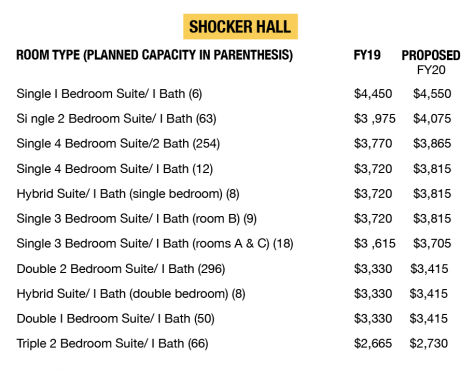 Students living on campus can expect to pay more for housing next year. Interim Executive Director for Housing and Residence Life Scott Jensen spoke to the Student Government Association Wednesday night about proposed rate hikes at Shocker Hall and The Flats and outlined what students can expect to pay at The Suites, phase two of The Flats.
Overall, housing costs at Wichita State will go up 2.5 percent next year.
"Each year, things get a little more expensive," Jensen said. "Utilities get a little more expensive. If the university gives a raise to our full-time staff, that obviously becomes a little more expensive, but we try not to raise our rates too incredibly high."
The biggest rate increases are at The Flats, the private apartment complex developed by a company owned in part by David Murfin of the Kansas Board of Regents. A two-bedroom apartment, double bedroom is expected to jump from $2,800 to $3,450 per semester, pending a Regents vote. A three or four bedroom apartment, double bedroom will increase from $2,500 to $3,450.
"The double rooms in The Flats jump up considerably," Jensen said.
"The rate that's in there is left over from Fairmount Towers. We said we would keep that price for one year but with the demands that we have, we just need to raise that rate up to be more comparable with the Shocker Hall double."
The Flats, a 112-unit private apartment complex that opened a year ago, offered a reduced price to students forced to move there for the 2017-2018 school year when Fairmount Towers was unexpectedly closed a month before move-in day. Before receiving the required state approval, WSU announced that the roughly 300 students who planned to live in the more affordable, university-owned Fairmount would be relocated to The Flats. Before the closure of Fairmount Towers, fewer than one in five beds at The Flats were filled.
After the meeting student body vice president Shelby Rowell addressed the proposed rates.
"The two bedroom apartments, double bedroom, and the three and four bedroom apartments, double bedroom, I was surprised by those numbers," said Rowell. "We knew last year that they would take The Fairmount prices over one year, so we knew that those numbers were going to go up. We didn't know how much they were going up by."
Of the 1,316 students living on campus, 484 people are now living at The Flats.
The Regents approved The Suites, which was billed as a lower-priced housing option, in March. They will open next fall.
A single two-bedroom suite will cost $4,075, according to the current proposal.
"Most of the rooms will be two-bedroom private spaces," Jensen said. "Each person will have a private room. The rooms will have full-size beds in them. The two of them will share a bathroom."
In addition to a private bathroom, each suite will have a kitchenette with a fridge, sink and possibly a microwave. There will also be a stackable washer and dryer and a common living room.
Though rate increases at Shocker Hall will be less than $100 per room per semester, residents can expect some other changes there next.
When Fairmount Towers closed last year, there wasn't enough room to fit all the displaced students. The university had to add additional beds to many rooms in Shocker Hall, putting three students where there had previously been only two.
"Our private rooms within the four-person private and the two-person private, we doubled a couple of those and that has not gone well," Jensen said. "So, we are not continuing that. We will pull those beds out for next year."
"The only triples we're keeping moving forward in Shocker Hall are in the traditional doubles. There are rooms that are bigger than others, so we're trying to just keep them in those. We tried and failed on a couple of things this year over there."
Last year there were 84 overflow students in Shocker Hall.
"Last year, we had 84 extra people and this year we have about 84 extra beds," Jensen said. "But last year, our design capacity was 1,185 and this year it was 1,400, so we still have more people living with us this year than last year, but we added more beds."
Hang on for a minute...we're trying to find some more stories you might like.