Voter turnout could make 2018 a historic midterm
You don't have to look far to find people who say this is the most important midterm election in decades.
Some reports indicate that voter turnout in the 2018 midterms may rival the higher numbers that are normally reserved for presidential elections.
"If that were to happen, it would be an incredibly unique moment for a midterm election," said Jeffrey Jarman, director of the Elliott School of Communication.
Jarman said that an uptick in voter turnout can swing close elections.
Early voting numbers are higher this year than in 2014 for both Republicans and Democrats. Compared to 2014, nearly four times the number of Democrats and double the amount of Republicans have voted early this year.
But with high numbers of unaffiliated voters, it's hard to predict where that will leave us on Nov. 6.
History Department Chair Jay Price said that the Trump presidency has caused people to be more invested in this year's elections.
"Certainly I think there is a definite conversation on a national level that is getting people's attention," Price said.
Neal Allen is the political science department chair. He said that presidents tend to lose seats for their party in their first midterm election.
"That seems likely to happen [this year]," Allen said. "Trump is of middle-to-low popularity by historical standards for someone at this stage in their first term.
"Right now, it is so evenly split that it doesn't take very much to swing something one way or the other," Price said. "It's so close that anything from a storm front to last-minute news can make an impact."
Though we may not see a lot of Kansans switching sides, we have seen a lot of Kansans investing in political campaigns — especially on the Democratic side. The financial support that Democrats have gained leading up to these elections far surpasses what they brought in in 2014.
"Democratic individual candidates have raised money like no candidates ever have in the history of the United States," Allen said. "You have Democratic challengers outraising Republican incumbents, and that's certainly new."
It's uncertain if this fundraising will equate to Democratic wins.
"It might be that it just allows Democrats to lose districts by less than they would have if they hadn't had all this money," Allen said.
Price said the biggest issue for Kansas right now is the growing divide within the Republican party.
"The real division is between the pro-business Republicans and the more, now populist Republicans," Price said. "The Wall Street versus the Wal-Mart Republicans, if you will. That's going to be the real issue, how those different segments of the electorate function."
One of the biggest local races is being fought right now between Democrat James Thompson and incumbent Republican Ron Estes. Does Thompson have a shot in a district that has not had a Democratic Congressman since Dan Glickman left Wichita for Washington in the mid-nineties?
"It's not just enough to have higher voter turnout," Jarman said. "You actually have to turn out a disproportionate number of people for Thompson to overcome the structural advantage of registrations that Estes has."
As for the Governor's race between Democrat Laura Kelly and Republican Kris Kobach, Jarmin said it'll be close. With a number of Republicans endorsing Kelly this year, it's clear that this race is going to be a nail-biter.
Is doing better going to be enough for Democrats in Kansas to win in a red state? We'll find out on election day.
Leave a Comment
About the Writer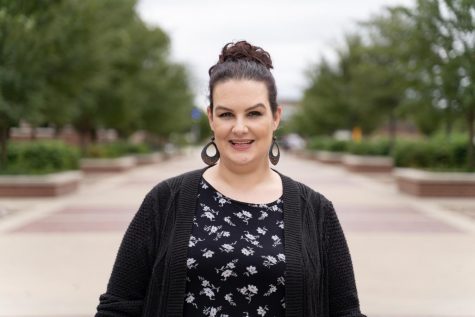 Audrey Korte, Former opinion editor
Audrey Korte was a reporter and the opinion editor for The Sunflower. She hosted The Sunflower News Podcast.