Thompson gets second shot at Estes
It's been two decades since Kansas's Fourth Congressional District of has had a Democrat in office. James Thompson hopes to change that by emerging victorious against incumbent Republican Congressman Ron Estes.
This is the second time the two will face off. Thompson lost to Estes in a special election in 2017 after Congressman Mike Pompeo was confirmed as CIA director.
The Fourth District is historically a Republican stronghold.
Once a registered Republican, Thompson said he switched parties largely because he was inspired by Sen. Bernie Sanders's "by the people, for the people" message.
Thompson's campaign focuses on veterans' issues, healthcare, the legalization of marijuana in Kansas, and making education accessible and affordable.
"I grew up in poverty," Thompson said at a public discussion at the El Dorado Senior Center on Oct. 20. "I was actually homeless when I was a kid at one point and I was fortunate enough to have a teacher who took an interest in me — who said, 'look, if you want to get out of poverty, if you want to make something of your life, then you've got to get educated.' He really affected the entire trajectory of my life."
Emancipated at 17 years old, Thompson soon joined the Army. He used the GI bill to help pay for his bachelor's degree in political science from Wichita State.
"It was the military that offered that opportunity for me," he said.
Thompson has worked as a civil rights attorney in Wichita for the last 15 years. He said he got into civil rights work to make sure the government doesn't overreach.
"I believe in holding people accountable and responsible when they do something wrong," Thompson said.
One of the sticking points for Thompson is Estes's use of super PAC money.
"We got all our money from individuals," Thompson said. "Mostly 30, 40, 50 bucks at a time. We have been busting our humps and we are over 50,000 individual donors for this race. Estes's campaign accepts PAC donations.
Thompson said he doesn't take money from PACs except for unions because "they're real working people."
Thompson's advice for young people on Nov. 6 is, "grab the four, five, six, 10, 20 people that you can. Get to the polls. Make sure that they vote. It's great that you went to a rally or protest, but if you don't vote, it's all been for nothing."
Leave a Comment
About the Writer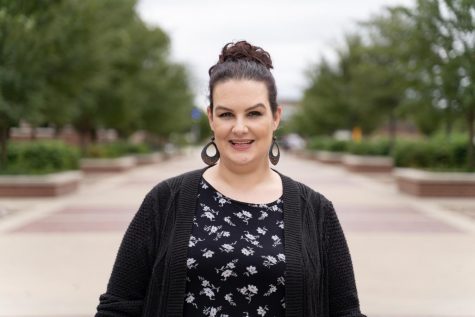 Audrey Korte, Former opinion editor
Audrey Korte was a reporter and the opinion editor for The Sunflower. She hosted The Sunflower News Podcast.