Through fire, flames and perseverance, Josh Cable is still running
Josh Cable is like most college freshmen at Wichita State.
He'll spend the second-to-last Friday before finals week cramming through assignments and projects. He wants to finish these early so he can go be among the crowd at INTRUST Bank Arena Friday night and listen to country music superstar Kenny Chesney.
Cable, a freshman, likes Chesney's 2018 smash-hit "Everything's Gonna Be Alright."
The song's message is simple.
Everything's gonna be alright.
And nobody's gotta worry 'bout nothing.
Don't go hitting that panic button.
It ain't near as bad as you think.
Everything's gonna be alright.
Cable will sing along with crowd. He'll sing lyrics of triumph, celebration and a time when everything was, in fact, not all right.
————
It was springtime in Illinois.
Josh Cable was wrapping up the final weeks of his senior year of high school. His schedule loaded with state track, end-of-year activities and senior prom. In less than a month, he'd walk across the stage at Rochester High a graduate.
He was looking forward to leaving home in a couple of months. In February, he signed to join the track and field team at Wichita State University. He couldn't wait to start training for the transition to college over the summer.
April 30 was a typical Monday night. Josh put his iPhone 6 on the charger, closed his laptop and went to bed.
It was a few minutes past 5 a.m. In an hour, the sun would peak through Josh's window and he'd take on the battle of waking up.
"Josh! This is a fire. Get up! Get out!" Al, Josh's dad, called out.
A cloud of smoke was pooling in the basement. It was a fire, likely sparked by some faulty wiring in the ceiling. Smoke alarms in the family's two-story house were loudly buzzing. The family wasn't sure where, but they knew they had to act quickly.
Josh was awake. Half-asleep, he followed his parents to the stairs. His parents went back to the main floor to save what they could.
"Grab your stuff," Al Cable said. Josh turned around for his room and grabbed his iPhone 6 off the charger and his laptop, then he bolted for a staircase that led to the garage. He opened the door to the closest exit to his bedroom. He went running up the steps to the garage. That's where there fire was; and when Josh opened the door, it fueled the fire with more oxygen.
In an instant, the stairway filled with black smoke and flames. Josh was halfway up the stairs before he had to retreat. He made it back to his bedroom and plotted an escape out the egress window. With badly burned hands, he couldn't get the perfect grip, and with panic setting in, the window jammed.
It hadn't been but 90 seconds, but in a house fire, every second matters. A minute ago, the house had just a light-colored cloud of smoke pooling in the ceiling. Now the scene was pitch-black. The heat from the fire made the basement feel like an oven. Furniture was melting. Fixtures were falling from the ceiling. The heat and smoke had made Josh's eyes close shut.
"I didn't know which way was which," Josh said, "I felt blind.
"I thought I wouldn't get out of there."
Kellye Cable, Josh's mom, stood in the garage trying to yell for her son. With the fire consuming all the oxygen, she couldn't find the air to call his name. Al ran inside the house looking for his son. From a second staircase, he called for Josh.
"Josh Cable! Follow my voice!," Al yelled. "Through these doors! Hurry!"
Blindly, Josh worked his way through a 20-foot maze that lead to his escape. He fell more than a couple times over melted furniture and debris.
————
Josh Cable doesn't remember the two days following the fire that consumed his family's house. He doesn't want to remember those days.
EMT's rushed Josh in an ambulance to Memorial Medical Center. The trauma team bandaged him nearly head-to-toe.
Today marks the 1 year anniversary since I got caught in the house fire and yesterday I had the honor of winning the WSU Comeback Athlete of the Year award.
.
.
.
If any of y'all are going through anything, keep smiling. Things will get better.🆙 pic.twitter.com/zR4OoyQQZ5

— Josh Cable (@josh_cable12) May 2, 2019
"You're strong," Kellye Cable said. Josh nodded his head.
Josh had no idea the extent of his injuries. He didn't know he couldn't open and shut his hands or move his neck. Kellye wasn't sure he wanted to hear news about his or the house's condition.
In a couple of days, Josh would have his fingers unbandaged. He communicated with his mother by writing letters in the air. He told his mom how he became separated from them.
Someone who experiences severe trauma will struggle to do even the most basic things. Josh tried to sit up in his bed and within seconds his heartbeat raced to 180 beats per minute. Gradually, over the weeks following the fire he moved from sitting up to standing, then eventually walking.
Josh spent senior prom, state track and other end-of-year activities in the hospital bed. He spent three weeks in that bed.
"This year was the lowest of my life," Josh said.
————
Sitting in the hospital bed, Josh Cable wondered about the past.
What happened?
He wondered about the future.
What will happen with my scholarship? Will I ever run at Wichita State?
Kirk Hunter, coach of the Wichita State track and field team, understands the nature of maintaining scholarships. It can feel like a business monitoring money and filling needs.
"In the beginning of it, we were just hoping that Josh was OK," Hunter said. "We understood his concerns, and even though we didn't know how this was going to work out, we didn't hesitate to let him know his scholarship was secure.
"There was no reason to think anything else," Hunter said.
Hunter called Josh.
You'll keep your scholarship. You'll still be able to run. Don't worry one bit.
Josh had his reassurance.
"Josh wanted to be normal," Kellye said. "He wanted to get back to his friends. Back to what he would normally do. He didn't talk about his doctors appointments."
He told his mom he refused to miss his high school graduation, and so he entered an agreement with the doctors and nurses. They would release him, but his mom would have to nurse him and bandage him daily. She agreed, and Josh went to his graduation soon after his release.
A week following his release from the hospital, Josh walked a 5K that supported local cross country teams.  
"He wouldn't stay home," Kellye said. "He wants to get on with normal life and to college."
————
It's not often Kirk Hunter is shocked.
It was Dec. 7, the end of the semester and Wichita State held an intersquad meet.
Hunter set Josh Cable up to run in the 600-meter. His time wasn't great, but seeing Josh cross the finish line left Hunter and the team emotional.
"I was in shock," Hunter said. "There was a big smile on his face and mine when he came across the finish line. It's a big deal that he's able to run or be here at all. It was a major step for him to compete like that."
"That was the first realization that I was getting there," Josh said. "I was excited to compete because I never thought I'd be able to."
Training has been nearly impossible for Josh. He's already had more than five surgeries, and doctors estimate he will have five more in the year upcoming. He plans his surgeries around breaks in the school year.
"It's a tough process," Hunter said. "He wants to run, but as he goes through this process, he will build himself up, then he has to have another surgery. He is always continuing to push through the situation."
Josh arrived at Wichita State running roughly eight miles per week — a far cry short of his 30 or 40 mile per week average. In the fall when he arrived he started running independently. Then he joined the women's cross country team in practice. In a month he would join the men in practice.
One step at a time, Josh worked his way back to normal.  
"Nothing compares to my situation," Josh said. "To be where I'm at right now is pretty overwhelming."
————
Josh Cable has a secret.
It's May 3, two days off the year anniversary of the fire. Josh is set to run the 800-meter in the Shocker Open in Wichita.
His parents, driving in from Illinois, don't know he has a personal goal he's trying to fulfill. In his last track meet before the fire, Josh ran a 1:55 in the 800.
He's been planning this meet for weeks, and he wants to beat it. He doesn't share that publicly. He hasn't paid attention to his times much, and he doesn't want to. He trusts himself and thinks he'll be close.
Kellye and Al packed the car and head for Wichita with an 8 a.m. depart time. In about eight hours, they'll be reconnected. She sent Josh a text early that morning saying they were on their way. Josh wants to celebrate. He wants to see Kenny Chesney after his 6:15 p.m. run with his parents and some teammates by his side.
"It'll be a big deal for our family," Josh said the night before his race Friday. "It's been stressful and hard for me, and it's been just as hard for them. Tomorrow is a huge day for me and for my family in general."
Friday in Wichita, Josh ran a 1:57.28 in the 800-meter. He finished fourth out of nine. His goal would have been good for first place. But it's not about time. It never was.
"It's not about that," Josh said. "Just being here and being close to that, I'm grateful."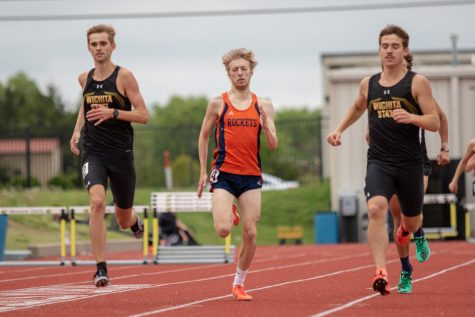 Leave a Comment
About the Contributor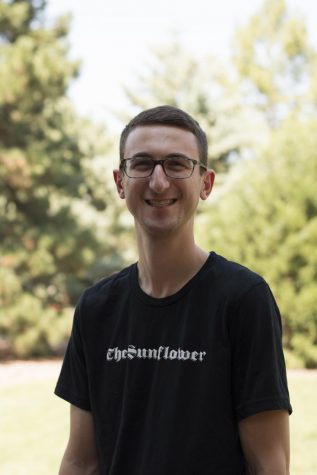 Evan Pflugradt, Former sports editor
Evan Pflugradt is the former sports editor of The Sunflower. Pflugradt past served as the publication's Editor in Chief, Opinion Editor and a reporter....