This week on the road – Feb. 2
Two career highs against Cincinnati:
Senior Jane Asinde and junior Ambah Kowcun dominated the Jan. 28 game in Cincinnati. With 23 and 22 points respectively, the duo accounted for over 65% of the teams points. Not only did they lead in field goal percentage, but also from the free throw line. Asinde made nine of her points from the line, to finish with a free throw percentage of .82. Though only making five free throws herself, Kowcun finished right with her with a .83 percentage. 
Asinde's 23 points and 14 rebounds gave her a career high in scoring and her seventh double-double this season. With five three-pointers, Kowcun also made a career high in points against Cincinnati. Wichita's 69-50 victory secures them their third conference win and a 13-8 record overall.
Season high scoring for the Shocker men:
Scoring 49 points in the first half, a season high for the team, Wichita led East Carolina by 21 points. Even with ECU's 44 points scored in the second half, they weren't able to bypass WSU. This road victory for the Shockers puts their record at 11-10 after the 85-72 win. Big scorers for the Shockers were seniors Craig Porter Jr. and James Rojas. Porter scored 20 points while Rojas was right behind him with 19. 
Porter also led the team in rebounds with eight total, all on defense. Following right behind Porter in rebounds were junior Jaykwon Walton and Rojas, both with seven. Rojas took 14 shots from the free throw line to make 11 of his 19 points. WSU's .509 field goal percentage shattered ECU's .373
WBB @ Temple:
The 59-72 loss to Temple didn't stop senior Trajata Colbert from hitting two career highs with 25 points and 11 rebounds. This was also her fourth double-double of the season. Fellow senior Jane Asinde finished the night with 12 rebounds, six on both offense and defense. The Shocker women had their worst shooting percentage of the season at .278. Though they scored more points than Temple in the last quarter, WSU was not able to make a comeback.
Leave a Comment
About the Writer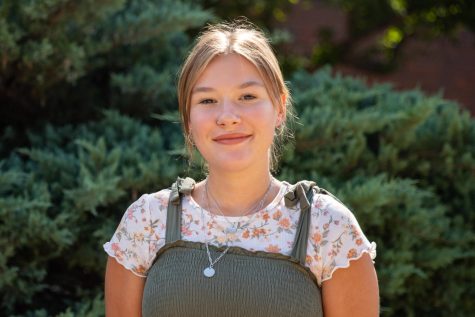 Danielle Wagner, Reporter
Danielle Wagner is a second-year sports reporter for The Sunflower from LaCrosse, Kansas. Wagner is a sophomore majoring in communications with an emphasis...