Faculty member sets aside time to work on first solo podcast
It's a Saturday night and the kids are asleep. Student projects are already graded and it is time to go downstairs to the guest bedroom and record this week's podcast audio. In the closet.
WSU journalism and media production teacher Jessica Newman released her new podcast "Create Space" the first Sunday of the new year. The podcast has seven episodes so far.
"It is funny because … I almost feel like I am playing pretend," Newman said. "Anyone can make a podcast."
"Let's Talk About It"
"Create Space" is not her first podcast. Newman used to co-host a podcast  with Bobby Berry, the assistant dean and professor at the College of Applied Studies. The podcast, "Let's Talk About It," had one episode a month, with 18 episodes in total. The episodes' audience was usually around students, so the themes each month were campus related. After Berry was promoted, they stopped the podcast, feeling the theme didn't fit anymore.
Berry and Newman split the tasks of creating a podcast. When Newman decided to give podcasts another go, she had more creative freedom. No longer confined to just co-hosting and editing, Newman was excited to do everything the way she wanted.
The Ol' College Try
Newman has pursued her career in communications at WSU as a student, a teacher and now a podcast host, but she did not graduate high school planning to become a teacher. In high school, Newman enjoyed storytelling through acting. She received a scholarship from a school that helped her continue acting after she graduated.
"I started as a theater major actually and went to a private performing arts school in the city," Newman said. "I did a year there. I am very glad I did the year, because it was a great experience. It was what I needed to know that I did not want to do theater as a career. I like this as a hobby and I craved stability in my life a little bit more than that would have provided."
When Newman decided to change majors, she lost her scholarship that supported her through performing arts.
"At that point, I was at this private college that I was on scholarship for theater, so when I let go of that scholarship, I was like, I don't really want to stay here and pay full price," Newman said. "So I came back (to WSU), and, at that point, (I) was looking at communication."
The creative field is where she wanted to pursue a life and Newman was searching for that life at WSU as a shocker.
"What I liked about theater was the storytelling of being able to be someone else, tell someone else's story, " Newman said. "I was looking for creativity, of course, and so I was trying to see what majors I could find that would replicate that but in a different way."
Back to ICT
Communications allowed Newman to explore different creative outlets such as writing, capturing photos or learning how to record audio and video. She transferred to WSU from the city.
"I came to transfer here my sophomore year, and finished out graduated from the Elliott School," Newman said. "Then I went to K-State to work, actually, so I didn't go to school there. But I worked for two years as a videographer."
In the two years, Newman gained videography skills and fell in love with not only communications but her boyfriend, who is now her husband. She picked up more skills in the field when she moved back to Wichita.
"When my husband and I got married, we came back here," Newman said. "Then (I) worked in Admission here. I was their digital media producer. So I did like social media, videos, photography, digital design, blog, that kind of stuff. I did that for six years."
Since transfering to WSU, the university has helped her achieve all of her goals. Newman graduated with her undergraduate in electronic studies in 2009. WSU offered to pay for her next step in her education, a graduate degree, if she continued to work at the school.
"If they're gonna pay for it, and I'm here on campus anyways, I don't know that I need a grad degree, but like, why don't I get it?" Newman said. "So I did. Even when I was in grad school, I still didn't think I was ever going to teach. I just, it's not that I don't want to, I just never considered it."
Moving On Up
After she graduated with her masters, Newman was given an opportunity that would be her first steps to the teaching career she does today. After graduating in May 2016, Newman was able to teach a multimedia class that fall.
Newman completed her first steps in the teaching environment that semester in classes and discovered that teaching was what she loved to do. Although she did not go into teaching immediately after the experience, she continued her journey in communications.
"I actually ended up working in admissions for two more years after that, but then in 2018 is when the full time faculty position opened up," Newman said. "I applied for it honestly thinking like, I can't probably get it but whatever. We're just gonna give it a go and see what happens. Then I got it and started teaching fall 2018 and have no intention of leaving. It's been awesome."
Newman has taught at the Elliott School of Communications for five years. During that time, she has met hundreds of students, seen and graded tons of projects and has watched her students' creativity grow.
"I'll focus on the right now, my career and being a teacher," she said. "I'm a teacher first, and our director knows and expects that most of my time and effort goes into teaching. But he is always very open and clear about what makes us a good teacher. It is that we know what we teach, and that we stay updated in that industry that we teach in."
Being a media production teacher, Newman is only able to teach what she knows and therefore must constantly be expanding her knowledge. With her new podcast, she continues to stay updated in her field of study and expertise.
"Especially for me, where it is a creative industry, (our director) sees the value in me continuing to freelance, continuing to create and continuing to learn," Newman said.
The podcast provides Newman a creative outlet in her field. She can combine her creative ideas with the skills she has learned at school and work.
"I have been teaching now for five years. In that time, after just slowly I realize I am not creating myself as much," Newman said. "I'm focusing on planning my classes and coming up with opportunities for students and I didn't realize until I started pushing these out once a week and working on content just how much I missed creating for myself."
Continuing to Create
On Saturdays, she records her podcasts either in her husband's office or in their bedroom closet, depending on the time of day.
"Did you know that closets are great places to record (in)?" Newman said. "I get the best voice overs in my closet. Depending on what my family is doing, I will go to the closet if they are downstairs. If the kids are all asleep, then I will go downstairs to the guest room and use the closet down there."
While hosting her podcasts, Newman has already met with many people to hear their stories. She has had Professor and Technical Director in the School of Performing Arts Ed Baker on the podcast. He shared laughs with her and memories of his late wife, Danette.
She also discusses the death of Tyre Nichols, a young black man recently killed by a group of officers. Newman shares facts about his life and his passion for photography. Under the play buttons, she includes links to read more about the young man, police brutality and sources who focus on fighting racial injustice.
"I was worried about doing that one, to be honest with you, because, well, I am a white female, but I tried to just be careful about how I approached it," Newman said. "Approaching it from my expertise, which is not social justice or fixing racial discrimination, but storytelling."
Another episode features her daughter, who just turned five, that originally was supposed to be released a week earlier, but the news of Nichols put the episode on hold.
"She and I were talking, because she likes to sing and she likes to perform, we were talking about how she … 'gets in the groove,'" Newman said. "It is lighthearted and it is adorable and fun."
The excitement of creating her own anything has been building up for years. Having a podcast, featuring any guest she can think of and telling their stories has been just what she needed to revive her passion for communications and to take her to a new step in her career.
"Just creating my own stuff and creating my own passion project and the whole basis of the podcast storytelling," Newman said. "It is all about storytelling. It's all about storytelling and I love storytelling. Ever since the beginning that's been why and the reason. So being able to have something that can be completely just that is awesome."
Leave a Comment
About the Contributor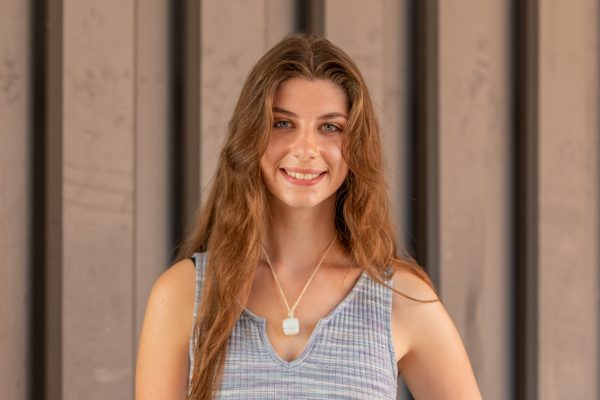 Piper Pinnetti, Reporter








Piper Pinnetti is a reporter for The Sunflower. Pinnetti previously designed content for The Sunflower's Instagram. Pinnetti is a junior...