'I don't think it's a good revision:' Faculty member discusses implications of gen ed plan proposal
In light of potential revisions to Wichita State's general education program, a faculty member said that he is concerned that the proposal would disservice students and faculty.
On Friday, George Dehner, an at-large senator for Faculty Senate and an associate history professor, hosted a Zoom discussion under the auspices of the Wichita State University American Association of University Professors chapter. The discussion was open to faculty and interested personnel to discuss concerns with the new gen ed plan.
The Kansas Board of Regents created the new general education plan with the intention of making transferring colleges within Kansas easier. KBOR tasked its universities with adjusting and adopting the plan. When it was first read by Wichita State's Faculty Senate, it received a mixed response. 
At the end of February, the Faculty Senate passed the gen ed plan to then be voted on by the entire faculty body. Dehner voiced his concern then about the plan, saying there was no data to justify passing the proposal.
Dehner said that general education has two elements — breadth element and depth element. The breadth element is so students are exposed to different classes and subjects. The depth element lets students do deeper work. 
At the Zoom discussion, Dehner said this potential plan will benefit community colleges because students are incentivized to take more courses there than at the university. He said this will impact teachers at the university.
"For reasons I must admit that aren't completely clear to me," Dehner said. "The structure of this general education revamping strongly favors the interests of community colleges."
While the new gen ed plan mostly reorganizes courses into different categories, if passed, it would cut some of the extra divisional courses that students usually take. 
"This is being proposed, I think, as not being a major change, but losing those upper division courses actually is a major change," Dehner said. "I think it undermines what our students will leave with the general education program completion." 
Dehner said that if the new plan is passed more tenure and tenure-track faculty will teach introductory courses to fill their workload.
"That's going to impact non-tenure track and our adjunct faculty in particular, because another piece of this revision process in terms of that is there's a great concern from KBOR at the moment about what they call 'faculty workload,'" Dehner said. 
The new gen ed plan comes alongside a variety of other potential changes at an institutional level. Almost a year ago, KBOR hired rpk, an educational consulting firm, to dig into the state's six public universities, governed by the Regents. 
Two months ago, rpk and KBOR finalized two reports, one being a "workload review." KBOR plans to review the reports created to potentially make changes at a state level to colleges and universities. 
Dehner said, while KBOR hasn't stated it explicitly, "they want to make sure that full-time faculty are pumping out credit hours."
"The long-term implications, I think, of this general education program are part of a larger package, in which they want the full-time faculty or tenure track faculty to teach more courses, which is going to squeeze out some of our colleagues," he said. 
Dehner said this could mean that some courses won't be taught as often.
"For non-tenure track and adjuncts who teach at the 300 level, those are courses that might not be available for them to teach in the future," Dehner said. 
Responses
The entire faculty body will be informed and vote on new gen ed plan on Friday, March 31 at a general assembly.
Martha Smith, professor in the School of Criminal Justice, said that she's been teaching one course that's a general education course for a long time, and while it's a requirement in her department, other students also take it. 
"I think it's a great course; it's about theory," Smith said. "I think everybody should know about theory because it broadens your perspective and, you know, if this goes through, it's going to make people have a less rich experience. Over time it just winnows away … at the core of what I hope people get from a university degree."
Deborah Gordon, women's studies associate professor, expressed concerns regarding the structure of the voting process. 
"The way things get communicated out to the faculty as a whole about things that we have to vote on is really not optimal," Gordon said. 
Gordon said that, as someone who's not in Senate, the process is rushed if the rationales of motions are received and voted on the same day.
Faculty Senate Agenda next Friday
Currently, with the way the rules are set up, at a general assembly, faculty members are not allowed to vote remotely. 
The first item on the agenda is changing these voting rules, so that people can vote remotely.
The second item will be to vote on the revision to the general education program. 
Dehner will be motioning to keep the general education program as is. Dehner said he can't speak to what other universities are doing, but Wichita State is already accepting transfer credits and believes the program already fits the framework that KBOR requires. 
"I don't think it's a good revision for the students," Dehner said. "I don't think it's a good revision for fellow faculty members. And I don't think it's a revision we have to do."
Leave a Comment
About the Contributor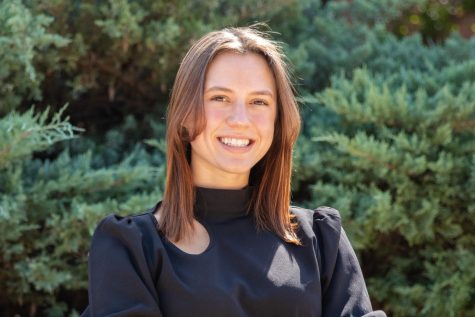 Jaycie Nelson, Former editor in chief
Jaycie Nelson was the Editor-in-Chief for The Sunflower during the 2022-2023 academic year. Before becoming editor, Nelson was opinion editor.