SGA says goodbye to leaving members
As the school year comes to a close and graduation approaches, the Student Government Association said its goodbyes to seniors and other members leaving the university.
"My biggest takeaway from this year is never let anyone tell you that you can't do it," Vice President Mary Elizabeth Thornton said.
During April 19's Senate meeting, multiple members of SGA's three branches gave their farewell speeches. Many thanked the association, told stories and gave advice to the returning senators.
Among those graduating were Sen. Jade Warden, undergraduate student advocate Omarian Brantley, budget and finance chairperson Olga Lesnik, Speaker Pro-Tempore and government relations chairperson Kian Williams, Vice President Mary Elizabeth Thornton, Speaker of the Senate Gregory VanDyke Jr, and Student Body President John Kirk.
"I believe in every single one of you," Lesnik said. "Whether you're graduating or moving on with your professional life or continuing at WSU, I know you guys will do your best no matter where you go."
Members encouraged returning senators to keep going and to look out for the student body.
"Never let the cynicism dictate your path," Williams said. "Allow hope to lead the way. Let us move forward with optimism, courage and a deep commitment to continue serving our committees. After all, that's what our student body deserves."
Following final remarks, the 65th session of the student government closed, and the 66th session began, starting with an installation and inauguration on April 20.
Leave a Comment
About the Contributor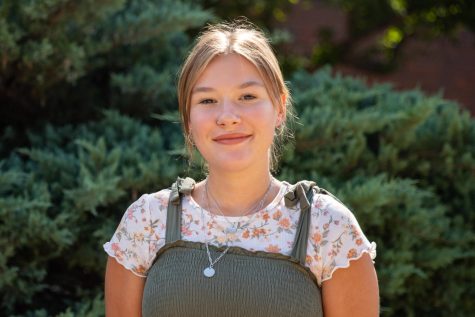 Danielle Wagner, Reporter
Danielle Wagner is a second-year sports reporter for The Sunflower from LaCrosse, Kansas. Wagner is a sophomore majoring in communications with an emphasis...