'Multifacted concern': What student retention looks like at Wichita State
With spring finals around the corner, the phrase "I'm dropping out" is not an uncommon one to hear from students. 
While the phrase has become somewhat of an inside joke among college students, many at Wichita State start their degree and don't complete it. 
A Kansas Board of Regents study published in 2021 said that only 25.2% of students who enrolled in 2015 graduated by 2019 at Wichita State. 
"It's a very multifaceted concern," Mercedes Lubbers, Student Success retention specialist at the business school, said.
In March 2022, the National Institute for Student Success made a retention report for Wichita State. The report marked Wichita State 11 points below the 57 point national average regarding the retention of first-year students within a six year graduation program year. 
The report also compared the percentage of students that are retained their first year in four-year universities from 2015-2020. Wichita State fell 11 points below the 81 point national average. It also said that within recent years, Wichita State has seen solid undergraduate enrollment numbers.  
In 2020, WSU's fall retention rate sat at 71.9%, meaning nearly 30% of students didn't return the next year. 
In Fall 2020, 15,500 students were enrolled, meaning roughly 5,000 students didn't return the next year. Fall enrollment for 2020 was 15,500 students, meaning only 10,989 of those students came back the next year.
In light of this, Wichita State has made a push to try to retain students and keep them coming back to school to complete their degrees, like creating the WSU Retention Fellows group. The group hosts events to help improve and diversify teaching methods. 
Moriah Beck, a member of the fellowship, said that retention has many subdivisions, from year-to-year or course retention.
"(In the group) we're thinking about how to retain them at the course level, or how to retain them in their program so that they can complete their degree ultimately," she said.
Beck said she encourages faculty to build a connection with the student to help improve retention.
"Faculty are kind of the feet on the ground that … should have that personal connection to the students," Beck said.
Molly Ha, a freshman, said college is much harder than high school and the transition might be harder on students.
"Teachers aren't as close to the students, and so you don't get as much support from them," Ha said.
Lubbers in her work, tries to look at the problem of retention from a framework perspective to try and understand what support the student is needing. 
"It's not just focusing on grades, it's looking at the student as an overall total person," she said."What I find is that students that are struggling tend to do so because they're lacking in some area of support."
Lubbers said most of the students she works with tend to be freshmen and seniors. She noticed that freshmen tend to have difficulty forming connections, and seniors tend to have trouble financially. 
"We work with students all the time who were having financial difficulties, health difficulties, personal difficulties," Zachary Brown, Student Success director at the business school, said. 
He said students juggle a variety of responsibilities, like health, work, education and more.
Teonnah Edwards, a first-year business major and first-generation student, said that she feels pressure from her family to complete a degree, which can be difficult when juggling a job as well.
"I just have to take a day off, so I can do all my homework in one day," Edwards said. 
Brown said students are not alone, as their peers often face similar struggles as well.
Aaron Hamilton, director of OneStop, said students who work and go to school get stuck in the triangle effect, where they are constantly commuting from school, to work, and to home without a distraction. 
He said students will hit the point where they begin to wonder what they are doing. 
"Being able to offer services to them is hard because they come here but it's for class and then they have to leave, it's not that they want to necessarily, but so being able to reach them where they're at is a continual challenge," Hamilton said. 
Hamilton said colleges are built on an old learning model that does not fit life after the 1960s.
"Colleges as a whole are not built for students who don't already have a leg up," Hamilton said.
"We're trying to try to tear down the way we're structured, so that we can rebuild it to meet this needs of students now, not the needs of students in the 1920s or even 1700s."
Hamilton said that a lot of the research done in higher education is done on select private schools which according to him has nothing to do with most colleges in the country.
"We're not all Harvard," he said. "We don't all want to be Harvard and we're not all supposed to be."
Beck said that having more freedom in college can be overwhelming for students.
"There is no one solution fits all, it is up to the student to decide in what areas they need help and take the necessary steps," Beck said. 
The Barton School differs from other colleges on campus in that it has a Student Success Center. But Brown said that just because other colleges do not have a success center, does not mean that they do not have faculty working to keep students in school.
"I think that's a value that is widely shared across the entire university," Brown said. 
Oftentimes, lightening students' course load can help them succeed.
Beck said she has had students who, after talking it through with her, have decided that the best decision for them would be to drop the class. 
Before making any decisions, advisors say that students should reach out to a trusted faculty member. 
"We can't help students if we do not know that they need help, they need to reach out to someone," Lubbers said. 
Hamilton said the right thing to do to is to help students students once they get in and not doing so is negligent at best.
"If we admit a student in Wichita State we should do everything in our power to get them to graduation," Hamilton said. 
View Comments (2)
About the Writer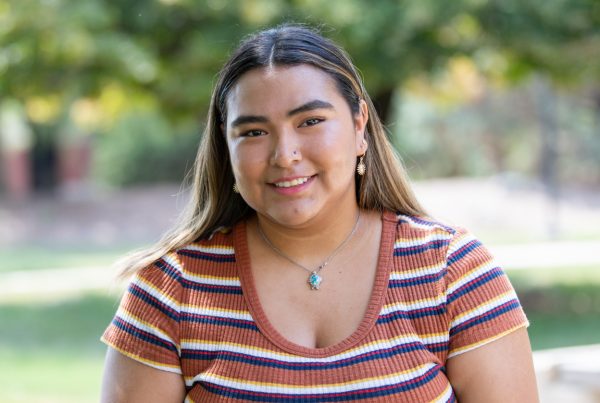 Melanie Rivera-Cortez, Sports Editor














Melanie Rivera-Cortez is the sports editor for The Sunflower. She is a senior pursuing a degree in journalism. Rivera-Cortez...