'It's getting complicated': Nationwide Adderall shortage impacts Wichita State students
When Wichita State student Ashley Grega went over a month without her medication for attention deficit/hyperactivity disorder (ADHD), she said she noticed a difference in her work and personal life.
The theater performance major struggled to pay attention in class and avoid overstimulation, which for her can trigger panic attacks.
"It was a little challenging trying to figure out how to stay motivated to do my homework and make sure I still get good grades," Grega said.
While Grega went without medication due to personal reasons, she said after recently switching to a new ADHD medication, she could also be impacted by the nationwide Adderall shortage.
In October 2022, the Food and Drug Administration announced a nationwide shortage of Adderall, a stimulant medication that often treats ADHD, and its generic variations. 
The FDA said Teva Pharmaceuticals, a major supplier of Adderall, is experiencing "ongoing intermittent manufacturing delays." ADHD diagnoses and stimulant prescriptions have also increased in the last few years.
Over seven months after the announcement, Adderall and its generic versions are still in short supply, along with other stimulant medications, according to Everyday Health.
The shortage has made it difficult for some people with ADHD to get medication, impacting WSU students, according to Heather Stafford, the Student Health Services (SHS) director.
"None of the pharmacies seem to consistently have medication," Krista Thurber, a SHS nurse practitioner, wrote in an email. "A few students have asked to switch to a different medication, which sometimes is typically not very affordable."
Grega, who was diagnosed several months ago, said that even though her past medication wasn't very effective, not taking it still impacted her. She said her therapist recently switched her to a new medication to see if it would work better for her.
But changing medications brought new concerns. Grega's therapist prepared her on how to call other pharmacies in case her medication isn't available for her next refill, due to the short supply.
Grega said the uncertainty of her medication's availability makes her nervous.
"It started fine, but now it's getting complicated," Grega said. "I have some coping mechanisms to help if I were to get overestimated and in a panic attack mode, but other than that, it's kind of 'whatever happens, happens,' and I'm going to have to deal with it, sadly."
Stafford said when students with ADHD can't get the medication that usually supports them, it can be detrimental to many aspects of their lives.
"If they don't have that coverage, then they're not as successful in the classroom," Stafford said. "They're not successful with the testing that they may have to go through. Sometimes, it can affect relationships. It can affect attendance at school."
Grega has seen the shortage's impact firsthand. Her partner didn't have his medication for about a month.
"He has very hyperactive ADHD, so it affected him I know very much," Grega said.
Grega said that it is important for students, faculty and staff to be respectful of their students or friends with ADHD during the shortage.
"(ADHD) does and can affect a lot of people's work and school life," Grega said. "And it would just be nice to know that your teachers are looking out for you and make sure they can support you and understand … if their work is a little late or if their work isn't the best, it may be because there's not another medicine."
To help students navigate the shortage, Stafford said SHS nurse practitioners use a separate reminder system through myShockerhealth portal to encourage students to do their prescription appointments earlier; most ADHD stimulant medications are considered controlled substances and prescribed in 30-day supplies.
The earlier appointments can help provide SHS with more time to find a pharmacy that has the medication, said SHS nurse practitioner Cindy Walker.
"That (reminder system) takes a little extra work for our providers, but (the nurse practitioners) do what they can to keep our students on the medication," Stafford said.
Stafford said SHS can also adjust students' medication dosages and provide information about alternatives.
"If (students) can't be on Adderall, and other options are too expensive to them, we help them find a way to get some medications, so they can at least have something to help them stay academically successful," Stafford said.
Grega also encourages people who think they might have ADHD to seek therapy and testing.
Grega didn't get diagnosed until she was 21 years old – women and girls have been historically undiagnosed for ADHD. She said she was relieved to learn that nothing was wrong with her and that she simply has a different brain.
"I didn't think I was living harder until I realized what it was like with being medicated and being regulated on my ADHD," Grega said. "It does not hurt to go talk to a professional about testing, getting the help you need to get you on the right path, being able to live life a little bit easier."
SHS can prescribe students with ADHD medication after they receive formal testing or consultation. Counseling and Prevention Services is not currently offering ADHD assessments but has provided a list of community referrals on their WSU page.
The Office of Disability Services can arrange accommodations for students with disabilities.
Leave a Comment
About the Writer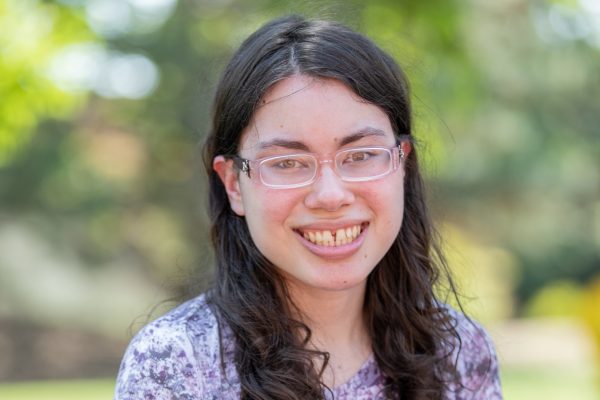 Courtney Brown, Investigative News Editor
Courtney Brown is the investigative news editor for The Sunflower. Brown previously worked as a reporter and assistant news editor.