Migration's end: Joan Miró's 'Bird People' mosaic nears completed restoration
The birds are back in town – and looking better than they have in years.
The Ulrich Museum of Art held a reception on their south balcony celebrating the near-completed restoration of Joan Miró's "Personnage Oiseaux" (translated into English as "Bird People") mosaic. The Tuesday evening reception was followed by a presentation in the CAC Theatre by Marianne Russell Marti, president of Conservation Services, Inc., detailing the restoration process.
The mosaic, which was designed in France by Miró and shipped to the U.S. in 1978, has been in a nine-year restoration process, Marti said. The restoration began in 2007.
Over the years, temperature changes, high winds, rain, snow, lightning and thunder wore on the marble and glass material, called tesserae, and the structural materials. There are more than 350,000 pieces of tesserae on the mosaic. Marti said it is estimated about 400 tesserae became dislodged or fell off each year.
The first step, Marti said, was a three-year study to determine the physical problems and to best conserve the mosaic.
The mosaic, which consists of 80 three-by-five feet 150-pound panels, was dismantled in 2011, Marti said. Actual work and restoration of the panels began in 2012 and finished this summer. As of Wednesday, 64 of the panels have been installed.
"As we became more and more acquainted with the mosaic and found that tesserae were falling every year, we knew there were some serious condition problems," Marti said. "And now it's just a pleasure and a delight to see it. It's stable and it's going to continue to be that way for years."
Marti said she anticipates it being decades before any further restoration is necessary.
Attendants to the reception agreed that the restoration has been a success.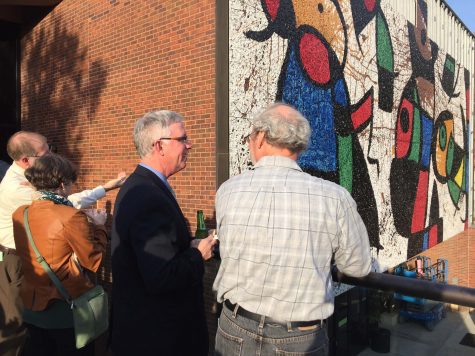 Local financial analyst Josh Quintana said he thinks the restoration is "brilliant."
"I grew up in Wichita, and this is how you knew you found the Ulrich building," Quintana said. "It's a staple of Wichita State, in my opinion, so it's just about time it came back. All art must be preserved. If they can preserve the Sistine Chapel, they can preserve something like this."
Dora Bayer, who serves on the local outdoor sculpture committee that worked on the Miró restoration, said the mosaic looks "so fabulous."
"It's so bright and clean and sharp looking," Bayer said. "Before, it had pieces falling off and it wasn't really bright and clean and shiny like it is now."
Ulrich intern ThaiBinh Ninh said she didn't realize the amount of work required to restore the mosaic.
"I got a chance to get close to the panels and see how they work on it," Ninh said. If you ever get a chance to get close, you can tell every detail matters."
Jennifer Lane, Ulrich Public Relations and Marketing Manager, said the restoration has been "spectacular."
"It glistens in the sun now," Lane said. "It's fantastic. They've done an amazing job of staying true to the original work. The attention to detail is meticulous."
Lane said Marti takes her role as a conservator "very seriously," and makes sure she maintains the integrity of the original work.
"She doesn't want to change anything," Lane said. "Everything has to be the way it was intended by the artist, and they did a fabulous job pulling that off."
Lane said the restoration was funded by $2.2 million of donations from private donors and grants.
A community block party to celebrate the mosaic's return will take place October 30, Lane said.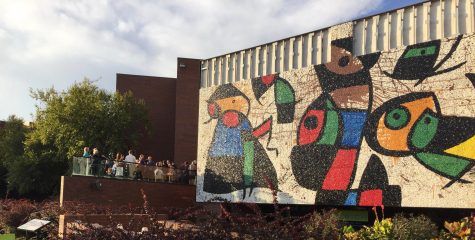 About the Contributor
Andrew Linnabary, Digital Managing Editor
Andrew Linnabary is the 2018-2019 Digital Managing Editor of The Sunflower.

He is a senior studying journalism and minoring in English. Linnabary is...