Shockers win second consecutive, Adams-Birch serves first game of leave
Wichita State won in the first game of Jody Adams-Birch's leave while a university investigation is conducted.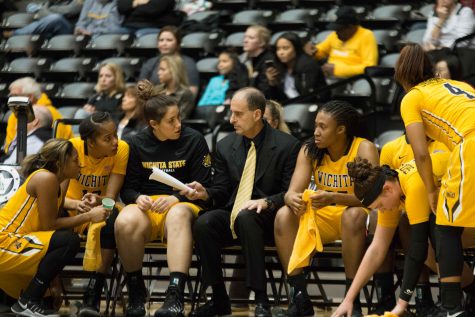 A brighter, more uncharacteristic spotlight shined on Wichita State's Friday home game against Bradley.
Tuesday, a team boycott from practice ensued and Ellie Lehne left the program. Thursday, Darron Boatright, athletic director, announced Jody Adams-Birch would be relieved of her coaching duties for the two weekend games while Boatright further investigated information about a situation between Adams-Birch and the program.
Enter assistant coach Kirk Crawford, who in an awkward time of play, ousted the Bradley Braves despite trailing by as many as 10 points in the first half.
Crawford's message for Friday was simple to the players: be a team.
The Shockers completed that strategy with 11 players playing 10 minutes or more, wearing down Bradley for 19 turnovers and forcing 38 percent shooting for a 65-54 win.
Crawford and the players would not comment on anything relating to Adams-Birch or the events being investigated, media relations representative Larry Rankin announced before post-game press conferences.
"Despite what's going on, we're here to do a job and that's to play basketball," junior Rangie Bessard said. "Everybody was on point, even though we made mistakes, we picked it up, we stayed together and that's what's most important is staying together as a team."
The Braves drained a three-point basket on their opening possession of the third quarter that was followed up by a layup from Bessard. Sophomore Sabrina Lozada-Cabbage answered with a basket after being fouled, missing the free throw to trail by two.
A three-pointer from junior Diamond Lockhart and a layup from Lozada-Cabbage started a 6-0 scoring run. Junior Tamara Lee followed up the two scores by sinking in a three to extend WSU's lead 37-31 with 6:17 left in the third quarter.
"We have combinations that opponents have difficulty guarding because one group plays really fast and one group can play in the open floor," Crawford said. "Not only does an opponent have the game plan for what we do, but who we do it with."
Bradley's Vanessa Markert went up for a shot and was fouled by senior Brittany Martin. Martin then reacted towards an official and received a technical foul, allowing the Braves to knock in all four free throw attempts to tie the game up at 40 with 3:51 left in the third quarter.
Lockhart gave the lead back to WSU with a jumper and Bessard's basket while being fouled that pushed the Shockers to a 45-40 lead. A three-pointer from Lozada-Cabbage extended the lead by seven before Bradley answered with a layup, giving the Shockers a 50-45 advantage at the end of the third quarter.
"It felt good that my teammates could find me and that I could produce for them," Lozada-Cabbage said. "Getting out there and playing and being able to contribute a lot for the team feels good."
While the beginning of the fourth quarter drew even, the Braves started to chip away as the time winded down. A basket from the Braves was followed up by a pair of free throws from Anneke Schlueter to cut the WSU lead down to three with 3:48 left.
Senior TaQuandra Mike sliced through the Bradley defense to extend the lead back to five before Schlueter swished a three to make it a two-point game. Mike responded again by beating the Bradley press and dishing it out to Bessard for a basket while drawing the foul.
The Shockers ended the game on a 9-0 scoring run and held Bradley down to nine fourth quarter points and 20 percent shooting.
"Going into the game, we talked about taking the three-point line away, which was huge," Crawford said. "We guarded personnel and we were really active in what we were doing tonight."
Bessard led the Shockers with a double double of 21 points and 10 rebounds while Lockhart added 11 points. Lozada-Cabbage added nine points and four rebounds in her fourth consecutive start.
WSU (7-10, 2-4) continues conference play on Sunday against Illinois State at Koch Arena at 2 p.m.
Leave a Comment
About the Contributors
Grant Cohen, Reporter
Grant Cohen is currently a reporter for The Sunflower. Cohen is a junior majoring in communications with an emphasis in journalism with a minor in sport...
Selena Favela, Photographer
Selena Favela is a photographer for The Sunflower.

She was the photo editor for The Sunflower her junior year. Favela is currently a senior majoring...