Beach: Shockers drastically underseeded
Wichita State will take on the seven-seeded Dayton Flyers in Indianapolis at 6:10 p.m. Friday evening.
Should the Shockers win it would set up a rematch of the classic 2014 bout between the Shockers and the Kentucky Wildcats, the No. 2 seed in the South Region.
Many bracketologists and fans alike were buzzing that an eight seed was the most likely outcome for the Shockers, but even that wouldn't have been too outrageous. I thought a seven-seed was what they deserved.
Sure there's the elephant in the room that Wichita State's lack of good wins, but WSU deserved better.
Look it isn't all bad.
Shocker fans knew they'd likely sit somewhere between the lines of a six seed or worse. Either way you look at it, the Shockers would likely draw a tough challenger in the second round.
One huge positive is that Dayton is beatable. The Atlantic 10 regular-season champs finished 24-7 and were bounced by No. 9 seed Davidson in the quarterfinals of their conference tournament.
They're a solid tournament-worthy team, but they can be had on any given day.
It's much better than drawing Michigan, another seven-seed, who is playing like a team possessed after their plane skidded off the runway prior to the Big Ten Tournament.
Here's the downside.
The Shockers are 30-4. For the sake of all that is good in the world of basketball, the committee needed to realize winning games mattered.
The 19-15 Vanderbilt Commodores became the first team to ever receive an at-large bid with 15 losses.
Oh yeah, they got a nine seed.
The committee had no love for mid-majors this season and they'd been trending in that direction for several years now.
Aside from Gonzaga, every mid-major was treated poorly by the committee. A seven seed for Dayton sounds about right, but they have to play WSU who is ranked No. 20 in the AP Poll and No. 8 in KenPom.
ESPN's BPI gives the Shockers a 72 percent chance to defeat Dayon, which is the best chance of any higher seeded to team to win their first round matchup.
So how is this fair for Dayton? It's not.
The committee also matched No. 7 seed Saint Mary, who finished 28-4, against VCU, who finished second in the Atlantic 10. Rhode Island won the A10 Tournament and was not rewarded for their hot streaks like the likes of Duke and Michigan were.
It's a shame the committee had four of the country's most powerful mid majors playing one another. They value TV ratings highly so they wanted mid majors out early. But fact is WSU, Dayton, Saint Mary's and VCU all have huge fan base, so they'll get what they want until two of these teams are gone.
It's time to put more basketball people on the committee. Mid majors should get their shot to prove themselves against the power conference teams that have so many opportunities to earn quality wins and get seeded well.
WSU being a 10 seed is completely criminal. But it's just more fuel to the fire for Gregg Marshall's team.
It's going to be a tough road to the Sweet 16, but it's possible.
Leave a Comment
About the Writer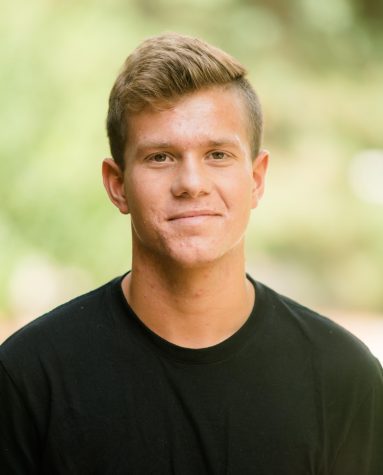 Nick Beach, Former reporter
Nick Beach served as a reporter for The Sunflower. Beach served as a sports reporter and columnist, as well as a movie critic. Beach is from the coastal...