Best of Wichita: Come for the coffee, stay for the community at Reverie Coffee Roasters
About eight minutes away from campus, Reverie Coffee Roasters is no hidden secret. The red-painted brick building — with a rustic, cozy interior — is a setting known to many.
Reverie is one of the few places in Wichita that brews its own coffee. It will have been open four years in June.
Reverie brews its own coffee with a complicated process involving computers, thermometers and graphs that chart process. The general brewing of the coffee is done with what's called a "wash process" of the coffee; one that generally produces a brighter, cleaner flavor from the coffee bean, explained Zac Minson, a Reverie employee.
The busiest times of day tend to be late morning when everyone is in need of a coffee break. Of course, college students populate Reverie at all times of the day.
One Wichita State student, Sultan Alsubaie, visits Reverie coffee at least five days a week, sometimes as often as twice per day. This is a routine Alsubaie has had for more than a year and a half.
"Here's the thing: I like coffee. I went to all the coffee shops I know in the area, on the east side of town" Alsubaie said. "I have tried everything on Starbucks menu — even the secret menu. I didn't like it that much.
"I have tried all of these and I like this coffee shop more."
Alsubaie also expressed his liking of the atmosphere, the employees and other customers. He frequently goes to the shop to talk to people and visit with other Reverie-goers. Though he insists his number one reason for Reverie is its quality coffee.
Other students have found Reverie to be a great place to meet and discuss. Every Tuesday the Campus Ministry Connect group has "Coffee & Connect" at Reverie where they discuss different topics covering the Christian faith
"Just look around you it's a modern place, a fairly young atmosphere. The food is good, the coffee is even better" said Andrew Martin, a sophomore at Wichita State and member of the group. "You feel the community here."
Community is a practice at Reverie; something they want to define themselves with.
"We are just trying to be as open as possible" said Zac Minson, a Reverie employee. "We want to be an approachable place that no one feels out of touch with, just really reach as many people as possible."
Reverie is also committed to the community around it and the whole city of Wichita.
"That's actually one of our biggest prides is how much we actually give to our community" Minson said. "We try to promote ourselves out in the community as well."
Reverie recently served coffee at an event for the American Kidney Foundation at the arboretum in Belle Plaine. The coffee shop also plans on having an event for earth day in a few weeks.
Leave a Comment
About the Contributor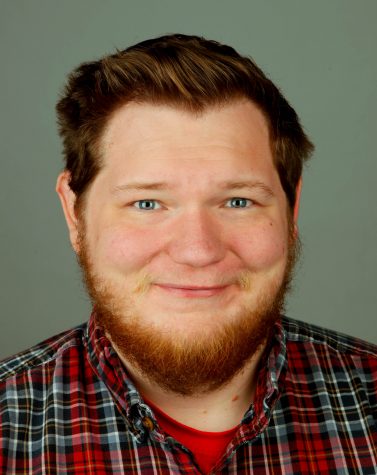 Brian Hayes, Former Photo Editor
Brian is the photo editor at The Sunflower. Hayes is a junior majoring in mass communication with an emphasis in journalism. He is from Wichita. Hayes enjoys...