YMCA partnership moves forward on 'good faith' without agreement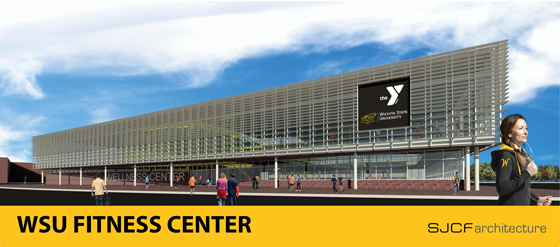 Advertisement
Hang on for a minute...we're trying to find some more stories you might like.
Although no formal agreement between Wichita State and the Y exists, on the first day of class Wichita State students can walk into a YMCA facility, show their Shocker IDs at the information desk, and proceed with their workouts as full-fledged Y members, according to Vice President for Student Affairs Teri Hall.
The initiative aiming to bring a YMCA to Wichita State within the next few years along with an updated wellness center paid for by a new three-tiered student fee automatically makes WSU students Y members as they wait for the campus facility to open.
The proposal of such a partnership sparked heated debate in the Student Government Association last school year and was rejected by the 59th Session before a similar proposal was approved by the incoming 60th Session.
The fee, which was approved by the Kansas Board of Regents in June, varies by credit hours taken. As a baseline, undergraduate students enrolled in fifteen credit hours can expect to pay $190 per semester towards the wellness center.
Student Body President Paige Hungate said it is time to move past last semester's arguing and embrace the addition to Innovation Campus.
"The fee is there and it's happening, so I'm excited to see people warm up to the idea and see that it's going to be good for students at the end of the day," Hungate said.
Even without a formal agreement between WSU and the Y, Hall said she was confident about the partnership moving forward.
"Now we're just inking through what that deal's going to look like," Hall said.
Though some students have voiced concerns about what happens if the Y backs out after student fees have already been allocated towards the wellness center, Hall said there is no reason to question enthusiasm on the part of the Y.
"When that question comes up, what I want to say is that if the Y wasn't into this, there's no reason why they would start having memberships for all of our students starting August 21st," Hall said. "If
"
If they were worried about it, they'd say no, we're not going to do this but instead they're going into this with good faith knowing that we're going to work this through."

— Teri Hall, vice president for student affairs

they were worried about it, they'd say no, we're not going to do this but instead they're going into this with good faith knowing that we're going to work this through."

Hall said that over the summer, WSU has been working with the Y towards a smooth transition into the new membership program. This has included contacting students with pre-existing memberships.

"The Y has been communicating with students and if that happens, as I understand it, the membership services folks will refund if there's a problem and we didn't catch somebody ahead of time who already had a membership," Hall said.

Hall said summer developments have also included bigger-picture planning.

"We've started having conversations to talk about getting people together and going around to see some buildings this fall that combine health and wellness like in a way we hope to do when we build our wellness center," Hall said.

According to Hall, Hungate and Student Body Vice President Breck Towner have participated in meetings involving Y representatives and will be on the team of people investigating building designs.

Hall said the facility, which will be located across Mike Oatman Drive from the Eck Stadium parking lot, will take some time to get up and running.

"We're thinking fall of '19 probably," Hall said.

After using the fall to look at building designs, Hall said drawing up plans and getting student feedback could take up to nine months and construction would take between twelve and eighteen months.

Whereas some students have raised concerns that the administration is forcing their agenda upon students with the Y partnership, Hungate said that she, along with other students would play an integral role in the decision-making process.

"It's not just administration is putting through whatever they want in this wellness center," Hungate said. "We are very much so part of the process and they are very much so wanting student input."

Hall said moving forward with the partnership, students can expect to have their voices heard in focus groups discussing issues such as what they want to see in the facility, reasonable prices for drop-in daycare, and how they hope to combine health and wellness aspects into fitness services.

"We're going to include students in this process all the way through."