Co-founder Dan Carney welcomes visitors to Pizza Hut Museum
The WSU Foundation helped fundraise $1.2 million to transform the 500-square-foot building into a museum.
Dan Carney, Pizza Hut co-founder, comes from humble beginnings.
Working for Carney Market and studying for a master's degree at the University of Wichita, he was frustrated with the day-to-day and became determined to make a change.
"If you want to do something, do it for yourself," he recalls his dad telling him.
"That's the only way to get a true score of what you're capable of doing," his father said.
Carney decided it would be best to go into business for himself. Dan and his brother, Frank, borrowed $600 from their mother to open a 500-square-foot restaurant in Wichita.
The brothers decided to take a pizza recipe from their friend John Bender and roll it out to the Wichita community.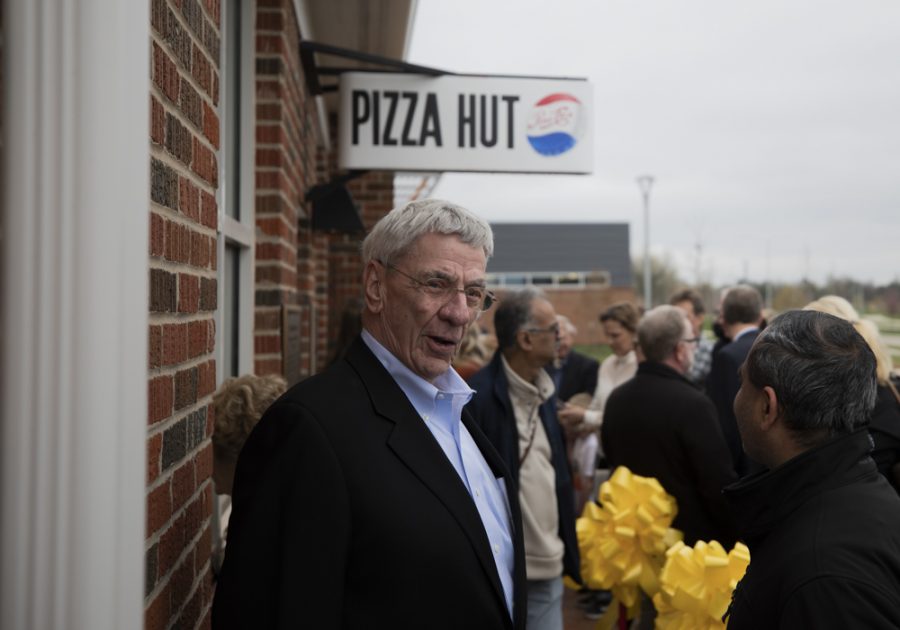 The sign on the door fit nine characters. The brothers knew they wanted to have "Pizza" in the name, leaving room for a three-letter-word. Given the building's resemblance to a hut, Carney settled on Pizza Hut.
"By happenstance or by God's good grace," Pizza Hut became an instant success, Carney said.
Pizza Hut opened its doors in 1958. Wednesday, Dan Carney, surrounded by a crowd of 300, cut the ribbon to reopen the original Pizza Hut building as a museum.
"It tells the story the way we want to tell it," Carney said. "This museum tells the story of friends, family, and franchise."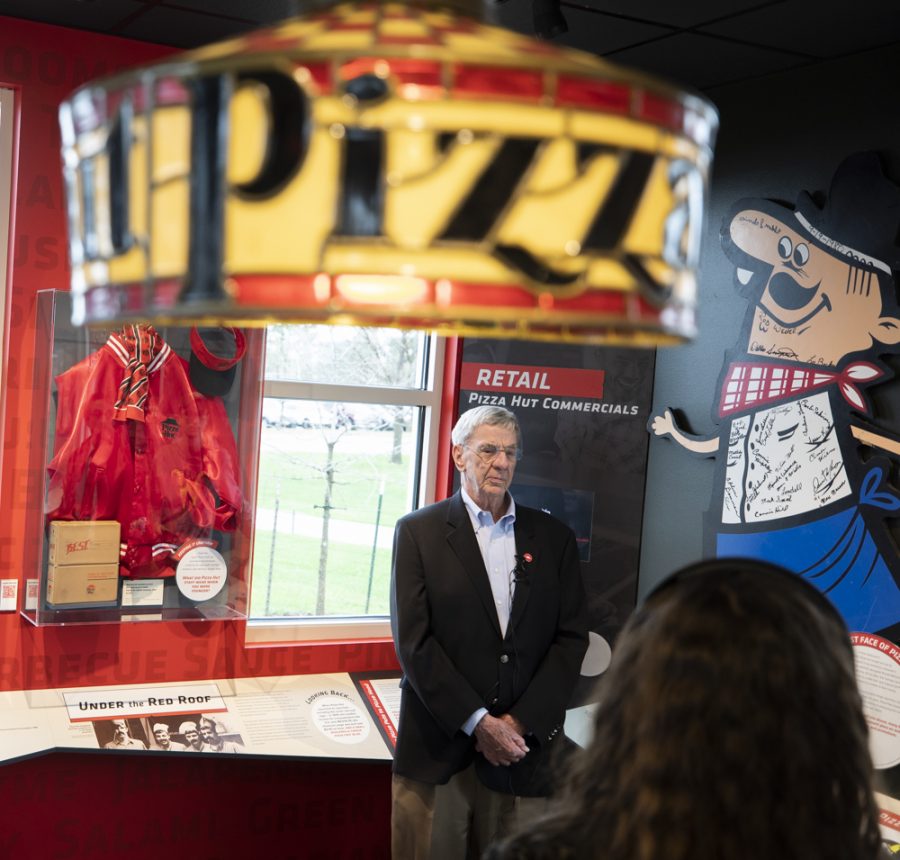 Carney stood in the kitchen-side of the museum and told stories of the company's history. He recalled times when five people would stand shoulder-to-shoulder in the kitchen and toss pizza dough, while up to 15 diners crowded the seating area.
Through help of the WSU Foundation, $1.2 million was fundraised to help renovate the facility into the a museum filled with artifacts kept by Carney's wife. The building was moved to Innovation Campus in September as part of the renovation project.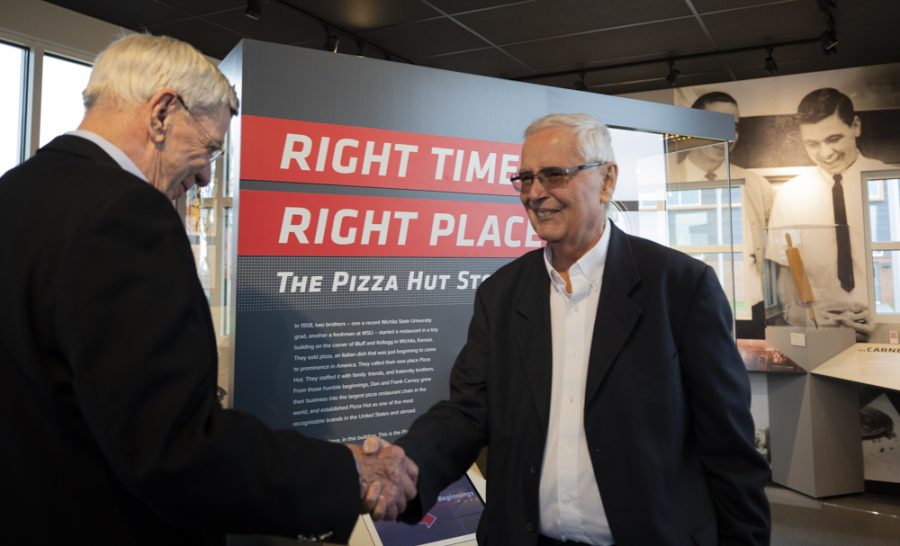 "The story of Pizza Hut is changing lives," WSU President John Bardo said. "It's about willing to take a chance on yourself, about reaching out to your friends, and about caring … That's the story of Pizza Hut. That's the story of Wichita State."
The building was moved from its original location at the corner of Kellogg and Bluff to WSU's campus to serve as a symbol of entrepreneurial leadership and success. The building was dedicated Sept. 11, 1986.
Bardo said he envisions the relocation of the Pizza Hut Museum, which is located behind the Marcus Welcome Center, will challenge 17-year-olds to think in terms of entrepreneurship.
"I want them to ask themselves, 'How big can I dream?'," he said. "Pizza Hut tells you what's possible."
Pizza Hut has been in operation for 60 years. There are 17,000 Pizza Hut locations worldwide.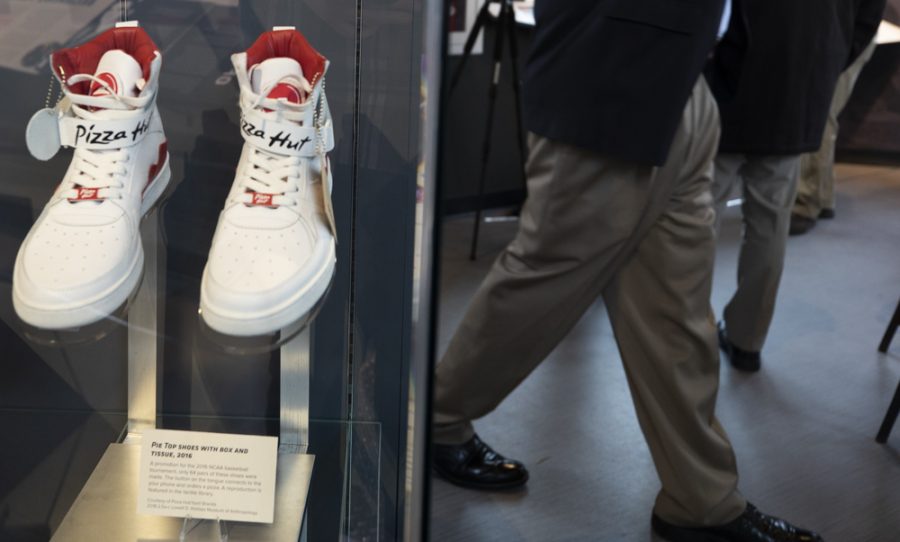 Leave a Comment
About the Contributors
Evan Pflugradt, Sports Editor
Evan Pflugradt is the former Sports Editor of The Sunflower.

Pflugradt past served as the publication's Editor in Chief, Opinion Editor and a reporter....
Brian Hayes, Former Photo Editor
Brian is the photo editor at The Sunflower. Hayes is a junior majoring in mass communication with an emphasis in journalism. He is from Wichita. Hayes enjoys...