Two years after being raped, WSU student shares her story of why she didn't report
Amid the ongoing political back and forth surrounding SCOTUS nominee Brett Kavanaugh and accusations of sexual assault during his time at prep school, one survivor of sexual assault at WSU shares her personal story of why she didn't report.
Warning: This story talks about rape and sexual assault to a degree that may be triggering or stressful to some individuals.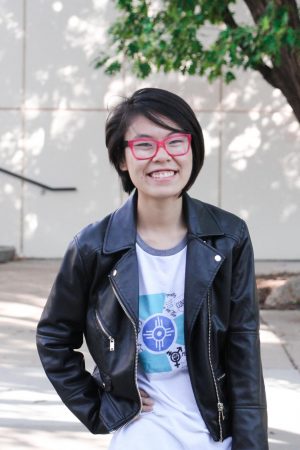 Sarah Myose was a freshman at Wichita State when she was raped in Shocker Hall.
Now a junior, Myose is still haunted by the memories of the attack. She'll probably be haunted for the rest of her life, she said.
It was the fall semester of 2016. For this freshman, it was all new. She had just moved into Shocker Hall, and knew nobody.
In an effort to find friends, she downloaded Tinder and some other dating apps. She wasn't interested in romance or hookups. She was just looking for friends on campus.
Her first attempt to be more social went horribly wrong, she said.
Soon after downloading Tinder, she matched with her attacker.
Myose described him as "really broad" and "really tall." He was an international student. He seemed like a nice guy.
After messaging for a week, he invited her over to his room. He lived on the fifth floor of Shocker Hall — one of the quieter, more secluded areas of the dorm.
They made plans to watch some movies, hang out, and get to know each other.
She came over, and it wasn't long before "it escalated into a situation I was very uncomfortable with," she said.
He tried to kiss and touch her, despite her rejecting his advances and saying no. Panic set in.
"He was much bigger than I was . . . I told him no multiple times. I told him I didn't want to have sex." There was little she could do to keep him away.
"And, basically, he kept pushing it and pushing it until it was rape."
Afterwards, she was in shock.
'I was treated more like a case than a person'
"My assault happened on August 31, 2016."
Two days later, Myose told a residence assistant about the assault, who reported it to Student Conduct.
Soon after, Mandy Hambleton, former deputy Title IX coordinator for students, emailed her.
Hambleton's email told her to come to the Student Conduct office at a given time and date.
She met with Hambleton — "and all the questions were very ridiculous, looking back on it," Myose said.
She said the questions Hambleton asked included:
"What were you wearing?"
"What time of night was it?"
"Have you been leading him on?"
"Were you friends with him before?"
"It felt very invasive," Myose said. "It felt almost like the burden was on me to prove that the situation was in fact rape. She was the second person I had told about my assault, so it was very difficult to have those questions thrown at me."
She said she thinks Student Conduct met with her attacker, but doesn't think anything happened as a result.
"Literally, it was all just loose ends," Myose said. "Two years from then, I still don't know what happened to him. I never knew what happened."
The meeting with Student Conduct was about a week after she was raped, she said.
After the meeting, the Student Conduct office emailed Myose. The email said there wasn't much that could be done by the university against her attacker, but that she could go to the police, try to get an attorney through the Wichita Area Sexual Assault Center, or not report it at all, Myose said. She was also referred to the Counseling and Testing Center.
Myose didn't want to go to the police because she didn't want her parents finding out. She asked what steps she could take if she didn't want the information out in the public.
"She really didn't have any options for me," Myose said. "I understand it's difficult to report an assault without being very open about it, but [the meeting] cemented the idea that I couldn't really do anything about anything.
"I was treated more like a case than a person."
Panic attack
That was Myose's sole meeting with Student Conduct, she said. She received no follow up from anyone in the office.
The assault, coupled with the meeting with Student Conduct, was traumatic to Myose, she said.
And it didn't end there.
"I would see him eating in Shocker Hall all the time," Myose said.
Once, during the 2017 spring semester, she walked into the elevator in Shocker Hall, and her attacker was standing inside.
"It was just him and I," Myose said. "Before that, I didn't have to face-to-face think about how this had happened. I kind of, in my mind, put that into that one room in Shocker Hall."
The two rode the elevator in silence.
"I stared at the wall, and I waited until the elevator dropped me off at my floor," she said.
After getting off the elevator and rushing to her room, she had a panic attack.
'Trauma changes you'
Even before the elevator encounter, the situation had affected her beyond those four walls. But it took Myose time to process that.
"It still affects me a lot," Myose said, more than two years after the fact. "Right now, I'm going through trauma therapy to get over it."
When people ask about what happened, she's typically able to talk without being overwhelmed. But when Myose is alone and thinking the situation over — or when a trigger sets her off — she's not able to handle it.
"It's really hard with triggers, because you never really know when they'll happen," Myose said.
She recently volunteered at the Interfraternity Council's Walk-a-Mile event.
"In my mind, I thought, 'I think I'm strong enough to handle this, but when I kept hearing all the statistics, and about how the first semester of college is a really vulnerable time for people, that really triggered me," Myose said. "My body tensed up, I had a panic attack, and literally, the rest of the night, I couldn't do anything. I was crying and just lying there."
The last two years at WSU have been full of moments like that for Myose — moments where she's reminded. It's been especially difficult in August.
Events like Back 2 School Bash and Welcomefest are fun, carefree occasions for most students, but for Myose, they're attached to bad memories.
"Those are all the same events that happened my freshman year, so it was like my experience was kind of simulated again," Myose said. "My body was kind of trying to get ready or prepare for something bad to happen again.
"It still affects me a lot, I think. I'm a different person than who I was freshman year. In a lot of ways, trauma changes you."
'I wasn't at first believed'
As an assault victim, the current debate surrounding sexual misconduct allegations against SCOTUS nominee Brett Kavanaugh frustrates Myose — particularly the people who question Christine Blasey Ford's motives because she waited 37 years to come forward.
Myose didn't feel comfortable reporting her own assault because she knew she wasn't in a safe place to report it, with fear of her family's reaction to finding out.
"I feel like if I did report it, I would be in much worse circumstances than if I didn't report."
Myose said she could see how Ford may have been in a similar situation, or wasn't ready to report around the time it allegedly happened. Sometimes it takes time — and a long internal debate of the pros and cons — to decide whether to report, she said.
"Trauma's so complicated for us to expect and for us to report immediately," Myose said. "Either way, survivors are in a really hard place. When we do report, we get backlash. When we don't report, we get backlash. What are we supposed to do?"
The first thing people do is question the survivors, rather than question the perpetrator, Myose said.
"It felt like I wasn't at first believed for someone who needed help."
Myose saw momentum during the #MeToo movement, but is seeing some of the same people who supported that movement question the accusations against Kavanaugh, she said.
"I think, right now, survivors, we're in a place where it's better than it has been, and it's really good that the stigma is slowly lowering — but it still could be so much better."
'A path towards healing'
Now, as a junior who has grown stronger as both a student and survivor, Myose encourages victims of assault and rape to remember that what happened to them is real, and their experiences are valid.
"Sometimes you just have to validate yourself and tell yourself what happened was what happened," Myose said.
Seek people out who will validate your experience and believe you for your story, Myose said. It's one of the biggest steps towards healing.
And healing can look different for everyone, she said.
"For me, [healing] meant a lot of mental healthcare and therapy," Myose said. "But some other people might just need a really solid friend, or a lot of self-care. I think it's always good to keep it a priority to take care of yourself."
Trauma is complicated and hard to navigate, Myose said — so self-advocacy is a must.
"Even if you can't find justice or whatever that looks like, sometimes if you find justice within yourself, you can be okay with things. That's a good thing."
Myose didn't find the justice she wanted, she said, and it took her awhile to find justice within herself. But now she feels empowered to seek justice by helping other survivors and sharing her story.go
"That's my way of trying to get my space back," Myose said. "And yeah, trauma sucks, but there's always a path towards healing. If you work toward it, you'll get there. I'm still on [the path], but I feel like I'm in a 20 times better position than I was after my assault."
Student Conduct was contacted for this story about Myose's assault, and about WSU's handling of sexual assaults in general. Christine Taylor — director of WSU's new Office of Institutional Equity and Compliance that handles sexual assault cases — denied an interview, but emailed The Sunflower the following statement:
"We know it's often very difficult for a person who is sexually assaulted to come forward and talk about the experience. The approach at Wichita State, at the time of the incident being described, and today, is to respond with compassion and support for any student who reports being sexually assaulted.  While we are unable to comment on individual cases out of respect for victims and because of federal privacy laws, WSU takes such reports seriously and focuses first on the well-being of the student. When meeting with a student who is reporting a sexual assault, the conversation is guided by them and they are encouraged to disclose only what they are comfortable reporting. During the conversation with the victim, there may be times when the interviewer seeks clarification. This is not meant to re-victimize the victim.  It is to gain a better understanding of what is being said."
What local resources are available for victims of sexual assault or rape?
The Wichita Area Sexual Assault Center offers advocates who will help talk victims through their experiences, access to local resources that can act as a step towards healing, referrals for long term support, and more. WASAC is located at 355 N. Waco. WASAC's 24-hour crisis hotline is available at 316-263-3002.
The Counseling and Testing Center at Wichita State employs licensed psychologists and other mental health professionals who are well-trained in trauma response and who provide therapy as needed. All mental health services related to sexual assault are provided free of charge. The Center is one of only two places on campus. The Counseling and Testing Center is located in 320 Grace Wilkie Hall. Schedule an appointment at 316-978-3440.
The National Sexual Assault Hotline is a 24-hour hotline that will offer confidential support from a trained staff member who will talk to victims about what happened, support finding a local health facility that offers services like sexual assault forensic exams, basic information about medical exams, information about local laws in your community, and more. Call the hotline at 800-656-3673.
Student Health Services offers a variety of health services to Wichita State students at little to no cost. Health insurance is not required to be seen at Student Health. Services include — but are not limited to — STI testing, counseling, and women's health services such as pregnancy testing. Student Health Services is located in 209 Ahlberg Hall. Schedule an appointment at 316-978-3620.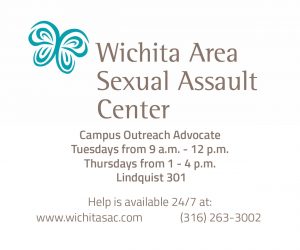 Leave a Comment
About the Contributors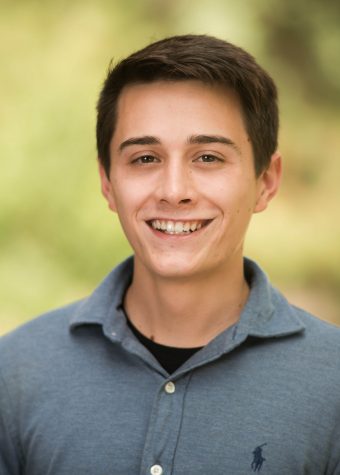 Andrew Linnabary, Former digital managing editor
Andrew Linnabary was the 2018-2019 Digital Managing Editor of The Sunflower. He studied journalism and minored in English. Linnabary is from Wichita, Kansas.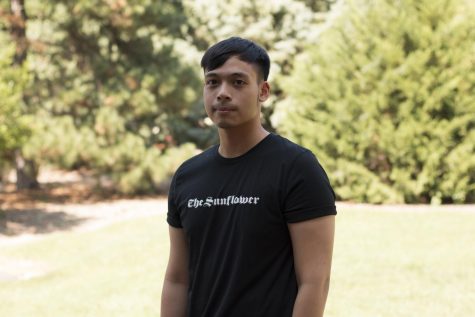 Tanat Maichan, Former photographer
Tanat Maichan (Tat) was a photographer for The Sunflower. Tat majored in aerospace engineering with a minor in mathematics. He is from Bangkok, Thailand.