WSU rolls out 'student-driven' plan to raise student fees, upgrade campus infrastructure
Wichita State is seeking support for a "student-driven" plan to upgrade campus facilities by increasing the campus infrastructure student fee.
The proposed hike would allow the university to bond $38.5 million — $20 million of which would go toward the construction of the new business school on Innovation Campus. The plan, which a university press release says "would positively impact all colleges," is scheduled for a student referendum next March.
The proposal includes infrastructure upgrades within each college — from updating classrooms, offices, and equipment in Wilner Auditorium to creating a larger 24-hour study room in Ablah Library with additional seating and restroom access.
Vice President for Student Affairs Teri Hall said the state of Kansas "will not give any money to universities for buildings." The proposed plan would require WSU students to pay at least an extra $6 per credit hour. For a student taking 15 credit hours, that amounts to $90 a semester.
The university's Infrastructure Priorities list says using student funds to make campus improvements "requires serious student support." State law mandates that a student referendum be held, but the results of the vote are not binding. University administrators would not confirm that the proposal will be abandoned if the referendum fails.
WSU has formed a steering committee of 30 students to take the lead on informing students of and generating support for the project.
Hall said WSU students will have an opportunity to "pay it forward" to future Shockers by greenlighting facility renovations.
STUDENT INPUT

Deans from each college came up with a list of infrastructure priorities with input from students, faculty, and staff, the Infrastructure Priorities list states.
Hall said deans went about collecting student input in different ways.
"It varies, but all of them started first with deans talking to students about 'What are the things that we need to do to improve your experience?'" Hall said.
Hall said there is no hard data available on student input collected by the deans. She said she understands why students may be hesitant to support a fee hike.
"Most people I know aren't going to willingly say 'I want to pay 90 more dollars a semester to do something,' right?" Hall said. "So at face value, you're going to just say 'Why should I,' right? 'I'm poor. I can't afford it all.'"
That's where the steering committee comes in. Comprised of representatives from Student Government and appointees from each dean and Strategic Communications, the committee met for the first time last week.
Student Body President Kenon Brinkley, a member of the steering committee, said he's not in a position to support or oppose the proposal until he hears from students.
"Until we hear some widespread consensus about how the students feel about it, we're not going to take any hard positions," Brinkley said.
He said it's important that the committee be receptive to dissenting opinions.
"The team that's tasked with this project, are they allowing for congruent student input to change this, to reject this, to affirm this, to amend this?" Brinkley said. "If that is still the case, excellent."
PROJECTS
The Wichita State Foundation has raised almost $30 million of the estimated $50 million necessary to construct a new home for the W. Frank Barton School of Business on Innovation Campus. Groundbreaking on the 136,000-square-foot facility is expected to begin in 2019.
"To just charge business students to pay for the building would be a lot of money. But I see it as it's a way to benefit everyone." — Teri Hall
Hall said coming up with the remaining $20 million was the impetus for WSU's new infrastructure plan.
"It started with the funding for the business school," Hall said.
"It gave us an opportunity to then request more money so we can do other things on campus."
More than half of the money raised by the proposed fee would go towards construction of the business school. Hall said spreading the burden to non-business students makes sense.
"To just charge business students to pay for the building would be a lot of money," Hall said. "But I see it as it's a way to benefit everyone."
Hall said one of the projects she's most excited for is centralizing student services in Clinton Hall.
"It will put together in one building key student services so students don't have to walk all over campus when they need help with something," Hall said. "Tutoring will be there. Grad school will be there. Student Conduct will be there. Advising can be there."
Brinkley said all of the proposed projects — from finding a new location for the dental hygiene program to modernizing the university's supersonic wind tunnel labs — are good ideas.
"All the ideas are good ideas. I don't think anybody can disagree with that," Brinkley said. "It's just a matter of addressing the concerns properly."
Brinkley is an LAS student majoring in strategic communications. The LAS renovation project is converting the university's two biology labs into three state-of-the-art labs. Brinkley voiced his skepticism that updating lab facilities is the most pressing issue for LAS.
"I think LAS students are fine with our two bio labs in Hubbard Hall," Brinkley said. "I don't think adding a third is necessarily our top priority in LAS."
REFERENDUM
Hall said the March referendum will be run on ShockerSync — the same platform used for SGA elections, which are held in April.
"I can't speak to whether it will go forward if the referendum fails." — Rick Muma
Brinkley said the university wants to hold the referendum before the SGA election so that the infrastructure proposal doesn't become the central platform of candidates' campaigns.
Provost Rick Muma said he expects the referendum to pass. He would not confirm that a lack of support from the student body means WSU will abandon the initiative.
"I can't speak to whether it will go forward if the referendum fails," Muma wrote in an email.
Hall said the university would have to reevaluate its options if the referendum failed.
"If the referendum doesn't pass, it's because we didn't put the right package of things together to students to get them to support it," Hall said. "That would mean we'd have to go back to the drawing board and say, 'If it doesn't pass, what would pass?'"
WSU President John Bardo has the ultimate authority to go before the Kansas Board of Regents and ask for approval of a fee increase. Brinkley said Bardo told him he's taking multiple perspectives into account when it comes to the initiative.
"When I spoke to the president, he clearly told me that there's a balance of perspectives that he's trying to find," Brinkley said. "Perspectives between the faculty that think that they own the university and the students that think they own the university.
"The faculty clearly want these changes and the students are saying, "Well, you guys aren't paying for it so it's easy for you guys to vote for something that you won't end up having to pay for."
PAY IT FORWARD
Hall said this is an opportunity for students to invest in the future of WSU, even if they won't be around to see all the improvements. She pointed to the renovation of the Rhatigan Student Center as an example of a controversial student fees decision that has paid off in the long run.
"I'm hoping that when we look at all of the things that are proposed to fix, that students can see, not only will they benefit, but others that are coming after them will benefit as well," Hall said.
"This is an investment in future Shockers and in campus that I hope people are going to care enough about."
Director of News and Media Relations Joe Kleinsasser echoed Hall's sentiment.
"The challenge we all have is getting the public — in this case, the students — to look at a bigger picture than just their immediate four years here," Kleinsasser said.
YMCA
In the spring of 2017, the university sought student approval to bring a YMCA and updated wellness center to Innovation Campus by way of a student fee increase.
At the time of the original YMCA proposal, SGA was told that if they voted the partnership down, it would not move forward.
"If you do not want it, we'll mark it off the master plan and we'll move on," Vice President for Research and Technology Transfer John Tomblin told student senators. "So I say absolutely, if you don't want it, then I say move on."
The 59th Session of SGA rejected the proposal. Two months later, after the 60th Session was sworn in, a similar proposal was approved by the Student Senate. The YMCA facility is expected to open in early 2020.
Brinkley said the steering committee is WSU's attempt to show students that their opinions on the infrastructure plan matter, and that no university agenda is being forced on them.
"[Committee members] were selected basically to make the idea look good to students because they realize that their rollout for the Y was less than great," Brinkley said.
Brinkley voted against the YMCA partnership as a senator in the 59th Session.
"I did vote against it at that time under the mind that, as we were told, if this gets voted down, that's the end of it," Brinkley said.
Brinkley was still a senator when the 60th Session voted on the second YMCA proposal, but he was on vacation at the time and missed the vote.
Brinkley said that if the infrastructure referendum fails, WSU should not force the fee hike on students.
"If this were to fail and go forward without the will of the students, I don't think this university would respond very kindly to it," Brinkley said.
One argument given in 2017 for building a new fitness facility instead of renovating the Heskett Center was that the university was not in a financial position to bond money.
"It would cost anywhere from $11 to 15 million to build on to the Heskett Center, which, like creating a new facility not affiliated with the Y, would require the university to borrow money from a bank," Tomblin said. "It will probably be 10 years before the university will be in a financial position to bond money."
Less than two years later, WSU is seeking students' financial support to bond $38.5 million.
"The university approach to using bond financing remains the same as it was during conversations about the YMCA and the Heskett Center in the Spring of 2017," Vice President for Finance and Administration Werner Golling wrote in an email.
"In the case of the proposed infrastructure plan under discussion, the university would be able to take on new debt because of the new funding source from increased student fees."
Leave a Comment
About the Writer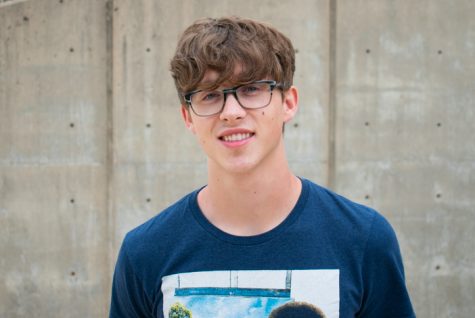 Matthew Kelly, Former Editor in Chief
Matthew Kelly is a former editor-in-chief and managing editor for The Sunflower. Kelly graduated in 2020 with a bachelor's degree in political science...