Regent's company corners the market on student housing at Wichita State
Since David Murfin became a member of KBOR in 2015, a company he partially owns has developed 2 on-campus housing options
Wichita State called off plans for more university-owned on-campus housing the same day David Murfin was named a member of the Kansas Board of Regents. Two years later, when Murfin was chairman of the board, WSU decided to lease space at the mostly empty private apartment complex developed by Murfin's company.
Murfin is one of four prominent Wichita businessmen with 25 percent ownership of The Flats of Kansas, LLC, the development company WSU is leasing The Flats private apartment complex from. Starting next school year, WSU will lease another Innovation Campus residence hall — The Suites — from Murfin's company.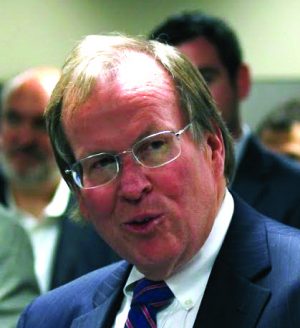 Two aging housing facilities were shuttered when university-owned Shocker Hall opened in 2014. By early 2015, WSU was considering a residence hall for Innovation Campus, which was still in its infancy.
One of four firms to submit development proposals for the project to WSU was MWCB, LLC, a company owned by Murfin, Ivan Crossland, Nestor Weigand Jr., and Steve Barrett — the same four men who would go on to own The Flats of Kansas, LLC.
In a June 15, 2015 email to the company's owners, obtained by The Wichita Eagle through an open records request, WSU Assistant Director of Purchasing Kim Sowell announced that a selection committee had chosen the firm to develop the residence hall. Sowell cited "significant concerns" related to the cost of the project, but wrote that "We look forward to working with you as we attempt to produce a viable project."
The next day, Republican Gov. Sam Brownback appointed Murfin, a longtime political ally, to the board of regents, which oversees and regulates state universities. On the same day, The Eagle reported that WSU would not move forward with plans to construct the Innovation Campus residence hall.
That summer, WSU commissioned a private firm to conduct a campus housing study. After surveying more than 1,500 students, the firm concluded that WSU should phase out 50-year-old Fairmount Towers and open a new housing option on Innovation Campus.
The study identified cost as the most important factor in determining student interest in additional housing. It also outlined two financing options for a residence hall — a university-owned option and a public-private partnership. University revenue would increase under the public-private option, but student rent would also be 16 percent higher, the study found.
The study was released in December 2015. In April 2016, MWCB, LLC drafted a letter of intent to build a private apartment complex that the company would "own and operate."
"As members of this community, we are especially invested in helping Wichita State University thrive as a successful economic driver in the region," read the letter, signed by Murfin and the other co-owners.
The Regents approved a lease two months later to allow Murfin's company to develop, own, and operate the private apartments. Murfin abstained from the vote.
The Flats of Kansas, LLC, with the same ownership group as MWCB, LLC, broke ground on the project. By February 2017, The Flats began leasing rooms with priority to WSU students. The same month, WSU announced that the university, not the private company, would manage The Flats.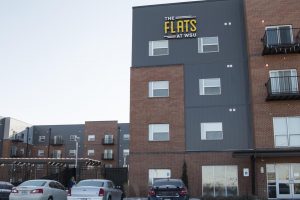 On July 14, 2017, just 48 of the Flats' 280 beds were filled. That's the day WSU announced that it would close Fairmount Towers and move the roughly 300 students who signed up to live there to The Flats. WSU's move came six days before seeking proper approval from the board of regents.
WSU Director of Government Relations Andy Schlapp, now chief of staff, said WSU Housing and Residence Life made The Flats a third priority behind Shocker Hall and Fairmount towers — accounting in part for the apartments' low occupancy.
"We did not manage probably to the level that the developer expected," Schlapp said.
He said the developers could have easily looked to an outside group to fill the apartments, but they wanted WSU students to live there.
Schlapp said WSU would pay the company about $7.50 a square foot as part of the lease agreement — less than half of what the developers would need to break even.
"They're going to lose their ass in this deal. But they think it's the right thing to do," Schlapp said of Murfin's company.
That school year, students relocated from Fairmount Towers paid the lower rate they originally signed up for. In December 2017, the Regents approved a WSU proposal to nearly double the amount of money the university would pay Murfin's company.
This year, WSU is paying The Flats of Kansas, LLC a base rate of $1.96 million plus 70 percent of gross rental revenue. With student housing at 130 percent occupancy, that means WSU is paying Murfin's company more than $2.5 million.
In December 2018, the Regents approved rate increases for both Shocker Hall and The Flats. They also approved rates at The Suites that are comparable to Shocker Hall, which will become a freshman-only facility when The Suites open in fall 2019.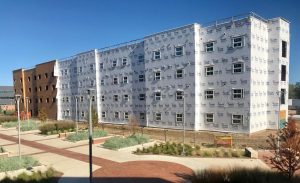 WSU's ramped-up focus on out-of-state recruitment is in part aimed at increasing the percentage of students living on campus from 12 percent to 25 percent, Vice President for Technology Transfer John Tomblin acknowledged at a January WSU Board of Trustees meeting.
Last month, Murfin and Ivan Crossland — another partial owner of The Flats and The Suites — announced that they will co-chair a 2020 Republican Senate campaign. Murfin is currently in the last year of his four-year Regent term.
MWCB, LLC and BGC, LLC, another of Murfin's companies, have completed a number of other projects on Innovation Campus, including Airbus, Starbucks, Partnership Buildings 1 and 2, and the Law Enforcement Training Center. A Crossland company, Crossland Construction, is the general contractor for many Innovation Campus projects.
Leave a Comment