Shocker women maintain 19-point halftime lead, hold off SMU
Wichita State's game Sunday was a tale of two halves.
For one half, the Shockers shot 50 percent from the field and ran a 19-point lead. For another half, WSU scored 16 points and shot 17 percent from the field. Still, WSU's halftime lead was enough to topple Southern Methodist. The Shockers won the game 52-43.
"I thought we were good both offensively and defensively in the first quarter and really set the tone early," WSU Coach Keitha Adams said. "In the second half [Sabrina Lozada-Cabbage] got in foul trouble and it made for a tougher second half with our shots not falling like they were in the first half."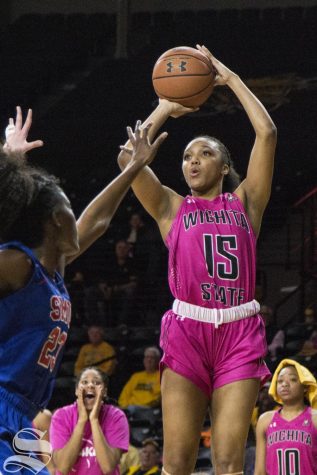 Lozada-Cabbage lead WSU in scoring with 12 points, despite playing limited minutes. Trajata Colbert exited the game in the fourth quarter with an apparent shoulder injury. Her status is yet to be confirmed.
WSU honored cancer survivors wearing pink jerseys and recognizing cancer survivors during halftime and after the game. Adams shared a personal story with the team prior to the game about losing her father to cancer after a 6-year battle.
"Pretty much everyone knows someone or has had someone in their family that has dealt with it," Adams said.
With the win, the Shockers improve to 11-13 on the season. Up next the Shockers will play UCF, with their matchup up nationally renowned UConn in their midsts.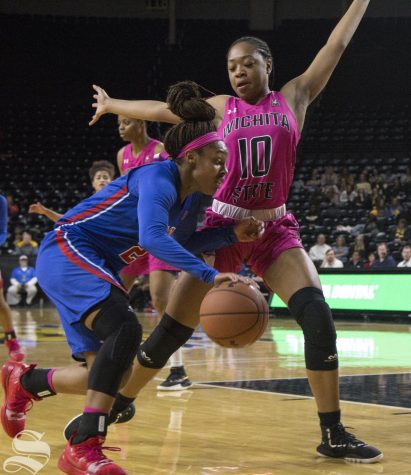 Leave a Comment
About the Contributors
Sean Marty, Sports Editor
Sean Marty is the Sports Editor for The Sunflower. Marty, a senior from St. Louis, is currently majoring in communications with a journalism emphasis and...
Selena Favela, Photographer
Selena Favela is a photographer for The Sunflower.

She was the photo editor for The Sunflower her junior year. Favela is currently a senior majoring...