WSU sends Loyola ramblin' home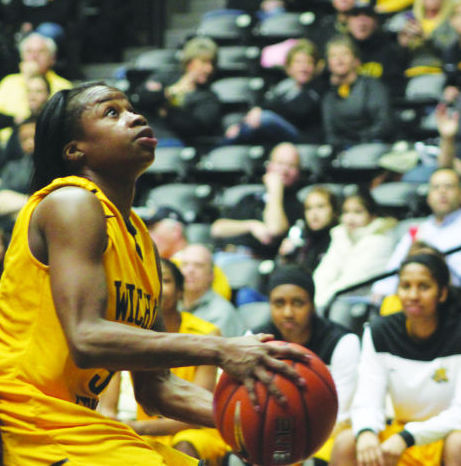 The WSU Shockers beat the Loyola Ramblers 65-50 at Koch Arena Sunday afternoon, but they couldn't relax.
Loyola started the game with an 11-2 run, helped by the Shockers missing their first 10 shots.
WSU had trouble adjusting to Loyola's zone defense, and their offensive was lethargic.
"We took quick shots; we forced some things," WSU head coach Jody Adams said. "We weren't on the same page or the same tempo."
The cold streak snapped when WSU guard Alex Harden made a jumper with 13 minutes left in the half.
Harden led all scorers with 24 points.
On the other side, Loyola's offense was led by forward Troy Hambric, who made a couple of smooth jumpers and scored 10 of her 15 points in the first half.
WSU was behind until Harden made two free throws with 9 minutes left in the first half. WSU took an 18-17 lead.
On the following inbound pass, WSU forced a turnover and started a fast break.
WSU guard Jaleesa Chapel got the ball, but missed a lay-up. Loyola went the other way and made a three.
The teams battled back and forth until halftime.
Loyola was ahead 30-29 at the break.
"We were sloppy, but we made some adjustments and attacked them where they were vulnerable," Adams said.
In the second half, WSU was poised and showed that they were the better team.
They played tough defense, controlled the tempo and pressured Loyola—making them uncomfortable and forcing turnovers.
Jamilah Bonner's defense set the tone.
She forced a steal to start the half, and then took it the other way a hit a 15 foot jumper. That tied the game at 34-34.
"I had to do it for us to win," Bonner said.
The Shockers started the half with an 18-6 run, took the lead and didn't let go.
The Ramblers could not get any momentum and were down by double digits for most of the half.
The Shockers have won 19 games in a row and are 20-2. They play again Friday at Drake and Sunday at UNI.
Hang on for a minute...we're trying to find some more stories you might like.