Student Fees Commission recommends organization funding decreases while student fees increase remains
When the Student Fees Commission reconvened on Tuesday, they made it clear that they were looking to slim down the 2.9% increase to student fees, which would equate to about $11 additional dollars each semester.
Commissioner Gregory VanDyke Jr., Speaker of the Student Senate, emphasized that he was looking for places to cut student fees.
"I did not vote in agreement with the 2.9(%) change last time we were in commission," VanDyke said. "I still think, with students on my mind, that that number can be slightly decreased."
The 2.9% increase was originally approved by the commission at their first meeting on March 7.
The commission called for a second meeting to correct mistakes made in allocations as well as revisit previous recommendations. 
At the first meeting, the commission didn't address two items: a 5% ($174,515) increase in compensation for workers in the Rhatigan Student Center and a $5,000 request for The Sunflower Equipment Reserve.
Both items were approved with little to no deliberation. 
The committee also voted to decrease the healthcare compensation from $94,765 to $89,469, which they linked to the 5% increase for RSC workers. 
VanDyke then looked to the Student Government Association Office Expenditures to cut the commission's recommendation from $671,052 to $650,000. This cut was accepted by the commission. Last year, their budget stood at $605,052. 
Commissioner Devin Moore, College of Liberal Arts and Sciences representative, expressed a similar goal to VanDyke in trying to cut down the overall amount of student fees. 
He moved to cut The Sunflower's recommended funding to $135,000, which would've been below what the publication received last year. 
"I'm looking for line items to subtly decrease to change the actual student fees charge," Moore said. "As I'm looking at it, The Sunflower has at least a reserve of $58,500. While unfortunate, I think this change is necessary to combat the change in Student Fees."
Of the $58,582 in The Sunflower's reserves, $45,000 of it was put towards facility renovations in FY 23, which was listed in the reserve section of the Sunflower's request.
Commission members pointed out that this would give the publication over $10,000 less than last year, after which Moore encouraged his fellow members to fail the motion.
Commissioner Jordan Webb then moved to decrease The Sunflower's original allocation from $155,000 to $148,000; The Sunflower initially requested $160,000. The motion passed with six yeses, one no and four abstentions.
Varsity Esports, which had $70,000 cut from their initial request of $150,000 had their Student Support Services Budget recommendation cut even further, going from $80,000 to $50,000.
VanDyke pointed out that the number of students that participate in Esports doesn't justify the amount of student fees that would be going towards their program.
"I believe they are funded by two other divisions here on this campus," VanDyke said. "Unfortunately, I would recommend that they seek more money from these divisions or seek more outside ad partnerships." 
Esports director Travis Yang was present at these deliberations and answered questions about the Varsity Esports and Esports Educational Opportunity Fund budgets during recesses from commission chair Jacob Brand and Webb.
The proposed budget for SEAL was also decreased from the initial recommendation. SEAL's funding moved from $1,081,955 to $1,071,955. 
At the initial meeting, the SGA Scholarship fund was given $500 more than they requested. Commission Esther Belotsi said there was no justification to give the fund more than asked for and proposed that their recommendation move from $35,000 to $34,500. Belotsi's motion passed. 
"I just want to even out all of the increases we've made so far," Belotsi said.
After all readjustments, the student fees increase remained at 2.9%, equating to around $22 a year for students to pay.
Three committee members missed this meeting: Emanuyel Brown, College of Applied Studies commissioner, Tanatswa Mafume, College of Engineering commissioner, and Jaquelinne Villa, graduate school representative. Additionally, Webb had to leave early.
The proposed budget must go through the Student Senate before it can be adopted. It will be given a first read on March 29, but no action will be taken until April 5 or 12 at the latest.
If the budget is failed by SGA, the commission will reconvene for a third time.
Leave a Comment
About the Writer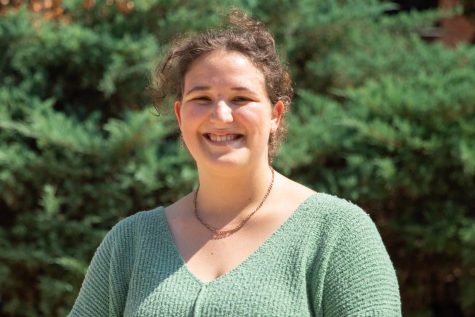 Trinity Ramm, Managing Editor
Trinity Ramm is the managing editor and former sports editor for The Sunflower. This is her second year on staff. Ramm is a senior English Lit major and...