Faculty Senate discusses potential changes to academic integrity
There were 324 cases of academic dishonesty during the 2022-23 academic year. Hearings were held for 69 of those cases, and 84% of these hearings were reported from classes held in the College of Engineering.
In their last business meeting of the year, the Faculty Senate's main discussion entailed potential changes to how colleges and the university handle cases of academic dishonesty.
Brandon Buerge, chairman of the Academic Integrity Policy committee, presented some proposed changes to the academic integrity procedures on April 24. 
These procedures cover what steps faculty and students go through to accuse and potentially punish students who violate academic integrity policies.
"There is a major concern among faculty filing reports," Buerge said. "There's concern that it is an onerous process that is going to not lead to anything effective."
Currently, a committee of eight faculty members handles all hearings of academic integrity on campus. A hearing is held when a student doesn't agree with the accusation or admit to cheating. Hearings can also happen if a student is a repeat offender or their dishonesty is considered egregious. 
The proposed changes would allow the Office of Student Conduct and Community Standards (SCCS) to apply educational sanctions, which the policy committee believes will reduce repeat offenders and disciplinary sanctions. It would also allow only colleges to apply academic sanctions.
Educational sanctions include sanctioning participation in clubs and organizations, the ability to live on-campus and other institutional activities. Academic sanctions are a branch of this that directly applies to a student's grade on assignments or in a course.
Another potential change would allow the accusing college to hold hearings and set procedures. Faculty and students familiar with the academic field would make up the committee.
Carolyn Shaw, a political science professor, expressed concern over the new revision allowing for different procedures across campus.
"Students are taking courses across many different colleges and could potentially have to go through this process that looks different in every college," Shaw said. "I would be concerned that we would be giving up a universal standard." 
Doug Parham, an at-large senator from the College of Health Professions, pointed out potential legal problems with how the policy would be nested. The revision would set a university policy that colleges can create their own procedures, but the university would still have its own policies in place that colleges can't supersede.
"That is a legal nightmare," Parham said. "If I'm a student and I figure out that the middle piece is different (between colleges), we might as well just write the check."
Vice President of Student Affairs Teri Hall proposed a potential solution, which would allow deans to recruit faculty to staff hearings when necessary, and SCCS would still oversee the whole process.
"Training could be done ahead of time and we could really be more efficient and really deal with the yield," Hall said. "We could work with the dean's office to schedule hearings from midterms to the end of the semester as a way of getting through cases in a much more expedited (way) while still maintaining due process."
After over half an hour of discussion, Faculty Senate President Susan Castro recommended that the topic be tabled until the Senate's May 8 meeting, the final meeting of the year. Business isn't typically done at their last meeting, as it is used for elections.
Other matters
Castro also gave updates on various projects and policies in her report. She said that the university is going to start repairs on Jabara Hall during the summer and are scheduled to finish by next fall.
In January, there was flooding inside Jabara Hall that required restoration. The construction over the summer will cover minor cosmetic fixes, according to Lainie Mazzullo-Hart, director of communications for the university.
Castro gave additional updates on the Kansas Board of Regents' recommendation based on the rpk report in relation to general education.
"We don't have specific details of how our template (for general education) may change," Castro said. "The recommendation made is fairly close to match the kinds of things we've already been doing."
The governor signed the Budgets Appropriation Bill that will provide $142 million for the joint University of Kansas-Wichita State biomedical campus. According to Castro, the project still needs $50 million for full funding.
The university also received $8 million to provide need-based financial aid for students to offset the cost of college.
Next meeting
The final Faculty Senate meeting of the year will be held on May 8 to welcome in the new Senate and continue the discussion on the Academic Integrity Procedures Revision.
Leave a Comment
About the Contributors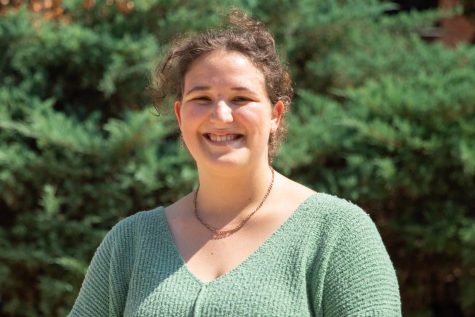 Trinity Ramm, Managing Editor
Trinity Ramm is the managing editor and former sports editor for The Sunflower. This is her second year on staff. Ramm is a senior English Lit major and...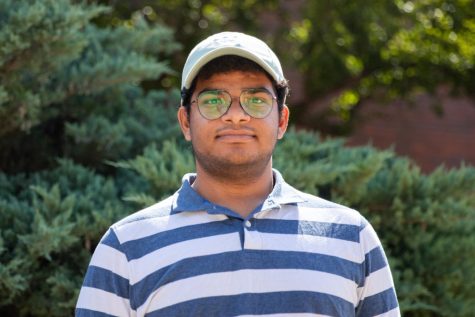 Nithin Reddy Nagapur, Photographer
Nithin Reddy Nagapur is a third-year photographer for The Sunflower.