'Product of Wichita Public Schools': Psychology student runs for Wichita school board, seeks to involve community
After being asked by several community members, Ngoc Vuong said he decided to run for the Wichita school board because he has "unfinished work."
Vuong, who has filed to run for the District 3 seat, is in the community psychology doctoral program at Wichita State, making him one of two WSU students to run this year.
A first-year doctorate student, Vuong said he's willing to make the sacrifice when it comes to balancing school and responsibilities related to the school board.
"I'm a product of Wichita Public Schools," Vuong said. "I've been very thankful and grateful for the opportunities I've had to be involved and to be of service to my community and a wonderful support system in Wichita Public Schools."
A first-generation Vietnamese American, Vuong was born and raised in Wichita, going through the school district and then graduating from WSU in May 2022 with a bachelor's degree in psychology, public health and economics.
While attending Wichita South High, Vuong served as student body president and started ICTeens in Mind, a youth-led group that organized mental health awareness campaigns and advocated for school-based mental health services.
"I realized that if not me, then who?" Vuong said. "It starts with one of us. But it cannot end with us — it ultimately involves others."
Community involvement is important to Vuong, who also decided to run in hopes the school board would better reflect the diverse school district and community. Vuong said he would fit that need, as a student and educator with research expertise.
"I have that lived experience of being someone that went through the Wichita Public School system, probably much more recently than any other candidate," Vuong said.
While an undergraduate student, Vuong has worked with Safe Streets Wichita, a substance use prevention and harm reduction coalition. He currently is a graduate researcher at WSU Community Engagement Institute.
Clinical psychology student Jesse Borosky, who is running for the at-large seat, said it's been great to hear Vuong's perspective as another candidate.
"He's just always nice," Borosky said. "He's always working with part of the community… He's doing a lot of great work."
Vuong said he credits his success to having a strong support system, especially after his mother died of a brain aneurysm when he was 15 years old. He wants all students to have the support he did, noting how their mental and well-being can suffer without it.
His campaign platforms for the Wichita school board include ensuring student success and school discipline, improving family and community engagement, and strengthening and protecting public schools.
Student success and school discipline
If elected, Vuong said he hopes to improve student success and school discipline, stating that problematic behaviors stemmed before the COVID-19 pandemic and are especially concerning now.
Vuong said restorative justice practices and accountability measures can create a safer working and learning environment.
"It will take a multi-level, coordinated effort between all stakeholders," Vuong said. "It will take the fundamental acknowledgment that disruptive behaviors, emotional dysregulation, doesn't just affect one student — it affects all students."
Vuong said he would approach student misbehavior with a "systems-oriented mindset," considering external factors that impact students, such as socioeconomic challenges, school underfunding and systems of oppression.
"We have to look at the bigger picture … how all these different pieces of the puzzle connect," Vuong said.
Vuong said the Kansas state legislature has been "increasingly micromanaging public schools" over the past few years. He said state or federal-level actions can affect students' quality of learning and "their right to feel safe and heard."
"We have to hold accountable the institutions and bodies of power that can naturally do something about it," Vuong said.
Throughout 2023, lawmakers have proposed various education bills. On April 28, the Kansas Legislature approved a bill expanding a private school tax credit. Opponents of voucher programs say they attempt to defund public schools.
Vuong said he emphasizes "implementation and evaluation science" and practices, especially relying on teachers' input.
"It's very clear that our teachers, they know what they want," Vuong said. "We don't need some outside expert coming in to tell them how it should be done."
To boost student success, Vuong would like to see high school students in more paid internships and apprenticeships, as well as having applied or service learning opportunities.
"It's one thing to learn something from a textbook (or) … from a lecture," Vuong said. "It's another thing to use those skills and knowledge directly in making the school a better place, in making the community a better place."
Family and community engagement
Vuong's second campaign point is to increase family and community engagement, calling their involvement in their students' educations "pivotal."
"Whether it's (families) attending school events, especially in terms of helping them with homework, and promoting learning outside the classroom," Vuong said.
Vuong hopes increased family support would help students gain exposure to various careers. He also stated creating a school district where everyone feels seen will lead to greater involvement.
"Because once you have a stake in something, once you realize just how much something impacts you, you're more likely to do something about it," Vuong said.
Strengthening public schools
If elected, Vuong also aims to strengthen and protect public schools.
"Strong public schools are signs of a healthy and vital democracy," Vuong said. "Public schools play a pivotal role in engaging people in civic process … encouraging people to think for themselves, to look at industry from different lenses and perspectives."
Community-based approach
To realize his three campaign platforms, Vuong said he would enact a grassroots approach, engaging those affected by the school board's decisions.
"School districts and school boards always run the great risk of making decisions without consulting … students or staff or families, especially in the working class," Vuong said.
When evaluating ideas, Vuong said school board members should consider that Wichita Public Schools is a diverse, large, urban school district. Vuong also touched on how the district experiences greater risk factors of substance use issues, such as poverty.
Vuong said he supports a "social norms, strengths-based approach" to addressing substance use issues.
"Students (and) young leaders have an incredible talent and opportunity in helping set the norms at their school," Vuong said.
Vuong also appreciated that some school districts across the country have had a student representative. According to the National School Boards Association, local districts in at least 31 states can choose to have student representatives.
"There's a constant reminder to the rest of the school board that at the end of the day, your decisions affect students," Vuong said. 
Vuong encourages more young people to run for office, as well as people of color and/or working-class people.
"If you have any questions or concerns about running or how to get involved in general, I'm here to talk to you," Vuong said.
The primary elections are on Aug. 1, and the general elections are on Nov. 1. For more information on Vuong, visit his Facebook page or contact [email protected].
Leave a Comment
About the Writer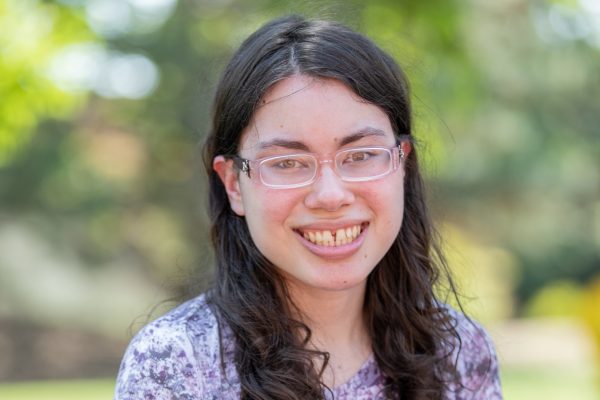 Courtney Brown, Investigative News Editor
Courtney Brown is the investigative news editor for The Sunflower. Brown previously worked as a reporter and assistant news editor.