Speaking out: Wichita State paid KC law firm to investigate Shepard
Joseph Shepard, who completed his second term as student body president in the spring, isn't known for holding his tongue. In fact, he's probably best known for always speaking his mind.
But there are things about his time as student body president that he has kept quiet, that he hasn't shared, until now — after The Sunflower approached him with recently uncovered documents related to the end of his term.
"It's time to break my silence," Shepard said. "So much happened and continues to happen behind closed doors."
Those things include a bullying investigation of Shepard by an out-of-state law firm in the spring, which found no evidence of a conduct violation, and mistakes made by the university with regard to his residency status that have ended up costing him thousands of dollars. Shepard said he thinks these university actions are retaliation for his speaking out against university decisions as student body president.
The Investigation
Last spring, Wichita State paid more than $33,000 to a private law firm that investigated whether or not Shepard should be investigated by the university for bullying.
According to documents obtained by The Sunflower through the Kansas Open Records Act, WSU paid Husch Blackwell, a Kansas City, Missouri-based law firm, two separate payments in late spring for services rendered, document production, and travel expenses between Feb. 1 and March 24.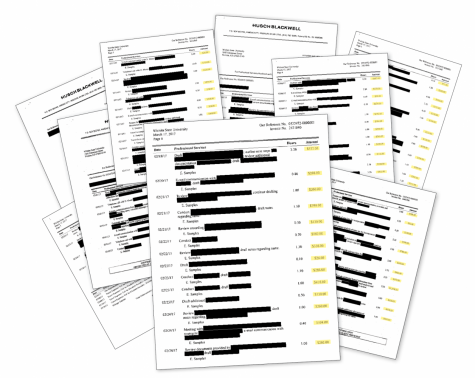 Those dates are important because Shepard was investigated for bullying another member of WSU's student government by an attorney from Husch Blackwell during the same time period, according to student conduct documents provided to The Sunflower by Shepard.
The law firm investigated a complaint made by a student government member against Shepard that alleged he "engaged in bullying conduct" and determined there was "no evidence to support that the respondent's communications and interactions related to this conflict rose to the level of bullying as contemplated by the Student Code of Conduct," according to a memo by Husch Blackwell.
The two payments were for $22,861.04, made in April, and $10,790.00, made in May, according to university documents. That's $33,651.04.
WSU General Counsel David Moses said federal law and university policy prohibit him from discussing the specifics of any student's "situation," but confirmed that WSU hired Husch Blackwell to conduct an investigation in the spring.
"I am confident that retaining Husch Blackwell was a prudent decision and an appropriate use of state resources," Moses said.
According to Husch Blackwell's summary of its investigation of Shepard, there was "dysfunction" in SGA last fall, and people interviewed about the case "described the overall climate in SGA as toxic and stressful."
Shepard and several members of his cabinet discussed the SGA climate in October of last year, when they sent letters to the Kansas Board of Regents diagnosing a "culture of fear" at WSU. The letters included a list of concerns they felt weren't being addressed by WSU's administration.
Among those concerns were students, faculty, and staff "afraid to speak up" out of fear of retaliation by WSU President John Bardo; student government adviser, Christine Schneikart-Luebbe, being put on leave without explanation; a lack of transparency in decisions being made by university administrators; and concerns about outside influence on university decisions.
"I think it is important for you to know that we are living in a culture of fear here at Wichita State University," Shepard wrote. "There are students, faculty and staff afraid to speak up because they're fearful that they will be fired, alienated or unjustly stripped of an opportunity to continue their education.
"It is evident to us, as students, that anyone who speaks out against President Bardo will be let go from their position, or their position will be dissolved for reasons unknown," Shepard wrote.
That was before Director of Campus Recreation Eric Maki, Associate Vice President for Student Affairs Christine Schneikart-Luebbe, or Assistant Director of Fraternity and Sorority Life Lyston Skerritt resigned from the university in the spring. Maki and Schneikart-Luebbe's resignations in the middle of the spring have been questioned repeatedly by students and faculty, but both signed non-disparagement and non-disclosure agreements preventing them from discussing the reason they left the university. Skerritt, who served as SGA adviser in his final months at WSU, said of last year:
"The last year has been interesting and difficult for me personally and professionally resulting in great reflection," Skerritt said in an email sent out to students when he resigned. "The root of my decision lies in a need to preserve my morals and affirm my ethics amidst an influx of operational culture and decisions made within the department and division." Skerritt did not say what those decisions were nor has he responded to The Sunflower's requests for further information about his resignation.
About a month after sending letters to the regents raising concerns about a culture of fear, Shepard said rumors began to circulate among students that he was being privately investigated. Before winter break, Shepard said he was alerted by WSU that there had been a conduct complaint filed against him.
Shepard said he wasn't told what the complaint was or who had filed it, but he was left with the thought of an investigation going into finals week.
Counseling and testing center became a common stop for Shepard, he said. Anxiety attacks, panic attacks, depression — this combination of stresses, Shepard said, led to hospital visits.
"There were days I wasn't able to show up to work because I was having panic attacks or having anxiety attacks or in the hospital," Shepard said. "It was very difficult to go through that situation without any answers but then keep doing my job while also dealing with the internal things that were going on in my own life."
Shepard spent his winter break with family, he said, and didn't hear back from the university about the status of the investigation until February.
That's when Shepard said he got a phone call telling him he needed to "come in and meet with an attorney."
"At that point, I was like, 'Attorney — what is going on here?'" Shepard said. He found out then the complaint was for bullying and who the student was that filed the complaint.
WSU's attorney, David Moses, said in an email, "as a general matter, factors that could lead a university to retain an outside investigator for a given case include the complexities of a case (both legal and factual) and the unavailability of university investigators because of actual or perceived conflicts of interest."
Shepard said he thinks an outside investigator was chosen because of a perceived conflict of interest and a perceived positive relationship he had with an official in the student conduct office, but that there were other employees in that office who could have conducted the investigation if that was a concern.
In short, Shepard said the investigation should have been handled internally, like any other student conduct case. Instead, it was handled by Elizabeth Samples of Husch Blackwell.
Moses confirmed that, in general, "the university's default is to conduct investigations using internal investigators."
"Whether the university retains outside investigators in future cases will depend on the circumstances of the cases we might face," Moses said.
Shepard said the investigation was overly intrusive and included showing Samples, the attorney, his emails and letting her look through his cell phone.
"She saw things that, in my opinion, she should have never seen," Shepard said.
"This wasn't some minimal investigation. This was hardcore, extensive — they wanted to know everything. And to me it was just an invasion of my privacy of my personal life and an invasion of my professional life as well. All because of, in my opinion, false allegations and claims."
The Sunflower reached out, through a Saturday email, to WSU President Bardo, Assistant Vice President for Student Advocacy, Intervention and Accountability Mandy Hambleton, Director of News and Media Relations Joe Kleinsasser, Vice President for Strategic Communications Lou Heldman, Vice President for Student Affairs Teri Hall, Student Body President Paige Hungate, Student Body Vice President Breck Towner, Student Advocate Rheanna Pierce, Title IX Coordinator Natasha Stephens, Faculty Senate President Carolyn Shaw, and Moses, alerting them of The Sunflower's findings and asking, among other things, whether the investigation was morally right.
Only Moses responded.
Payments
Shepard is from California, but he has been in Wichita for six years. During his four years of undergraduate studies, he paid out-of-state tuition. But last year, when he was admitted to graduate school at WSU, his acceptance letter said he was "classified as a resident of the State of Kansas for tuition purposes." So, he paid in-state tuition.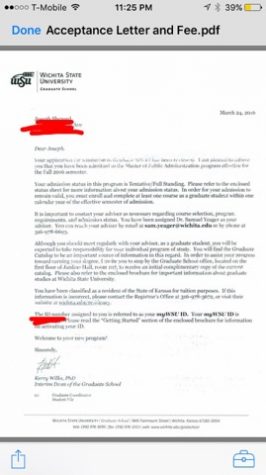 March 30, he received an email from WSU financial operations telling him there had been a "fee assessment error," on top of an error in his residency status, that resulted in him owing $12,156.50 for back payment on retroactively-assessed out-of-state tuition for his first year of graduate school and out-of-state tuition for the fall.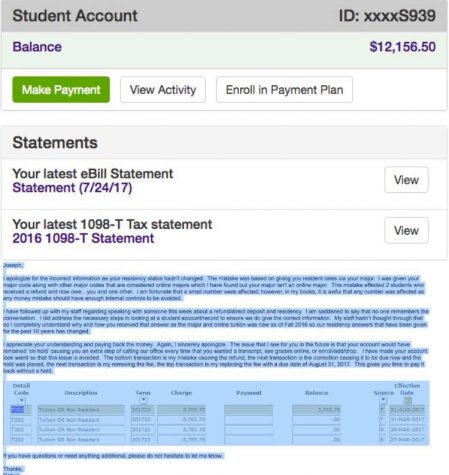 Shepard said he thinks these mistakes weren't accidental, that they were a way to deter him from returning to WSU after a year where he questioned the WSU administration.
"I believe that this administration is very intimidated by anyone who is willing to stand up to their actions — against their unethical practices," Shepard said.
"And so, long story short, unfortunately, I think that this administration sees me as a threat. Anyone who is willing to say 'I'm not going to allow this to happen and I'm going to continue to fight against this' — they want you out of here," Shepard said.
But Shepard said he is determined to finish out at WSU, to set an example for those students who may feel the same way as him and may wish to follow in his footsteps.
"If I don't speak up, then this same thing could happen to someone else and I don't want anyone to ever deal with this nightmare. It's discouraging, disheartening and hurtful. Luckily, my resilience and faith in God won't allow me to let these things or them get in the way of fulfilling my purpose in life."
——— ——— ———
View documents related to this story here: Husch V1717781_Redacted, Husch V1715947_Redacted.
View Comments (30)
About the Contributors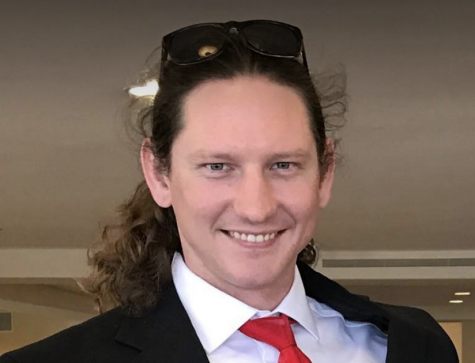 Chance Swaim, Former Editor in Chief
Chance Swaim was the Editor in Chief of The Sunflower from fall 2017 to spring 2018.

Swaim was a graduate student in the English Department working...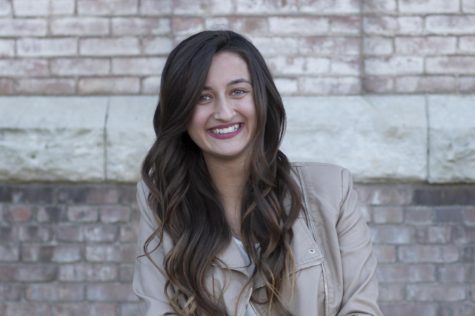 Selena Favela, Former photographer
Selena Favela is a former photo editor for The Sunflower. She majored in graphic design. She is from Wichita, Kansas.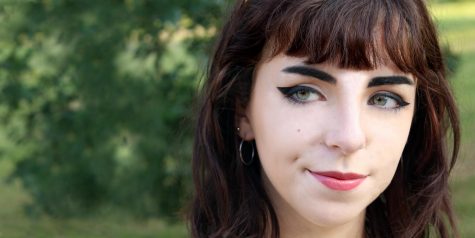 Madeline Deabler, Former advertising manager
Madeline Deabler was the advertising manager for The Sunflower. Deabler double majored in journalism and graphic design. Originally from Omaha, Nebraska,...