WSUPD's crime log wasn't updated for about a month. Here's some of what you missed.
The Wichita State Police Department didn't update their crime log for most of July and part of August, during the time the university was rolling out their new website. Here are some crime highlights you may have missed in that time.
A man at the Coleman Tennis Complex had the police called on him for alleged illegal gambling on July 2, the crime log said. The police asked the man to leave.
An "individual," not identified as a man or woman, was hit during a basketball game at the Heskett Center on July 5. The incident is under investigation as battery, according to the crime log.
Heskett Center staff found a used bullet on the tennis courts July 11. The bullet was turned over to police. On July 11, another used bullet was found and turned over to police, this time at the Coleman Tennis Complex.
On July 26, a man committed suicide at 5400 E 21, the location of Woodgate apartments. WSU police had previously helped handle a suicidal person at a separate location earlier in the day.
Also on July 26, faulty wiring caused a water fountain to catch fire in Grace Wilkie Hall.
August's first crime log entry is at Morrison Hall — where the president's office and post office are located — with a letter "that was concerning to staff" in the post office. A police report was filed.
A student in Grace Wilkie Hall, the liberal arts and sciences advising center, made threatening statements to an advisor on August 7.
On August 15, the police were called on a man peeing in the bushes in lot 37, near Innovation Boulevard and Airbus. "The male was contacted," the police department's crime log entry said.
On August 18, there was a "report of a woman vomiting." She was transported to the hospital by EMS, the crime log entry said.
A woman was reported for approaching people and asking them to join a Bible study August 20 at Shocker Hall. August 22, a woman was reported for approaching people about a Bible Study at the Heskett Center. The incident was reported by the police as possible attempted human trafficking.
On August 21, a pickup truck and a golf cart collided.
Also on August 21, police were called to Shocker Hall because of "the smell of marijuana and possibly marijuana in a trash can." The supposed marijuana in the trash can was tobacco from a cigar.
Leave a Comment
About the Writer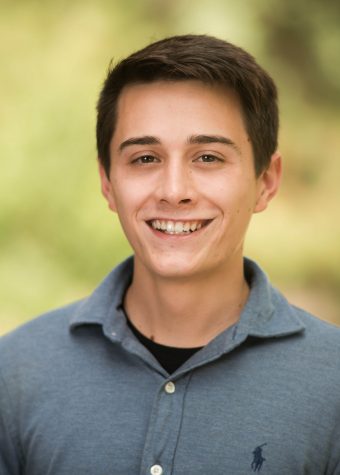 Andrew Linnabary, Former digital managing editor
Andrew Linnabary was the 2018-2019 Digital Managing Editor of The Sunflower. He studied journalism and minored in English. Linnabary is from Wichita, Kansas.