Holden happy to end collegiate career as a Shocker
Connor Holden isn't your typical graduating senior. Holden only spent one year as a Shocker but still is still happy looking back at his decision to come to Wichita State. 
Holden had pitched the four previous seasons at Murray State, but after obtaining an extra year of eligibility he decided to transfer to WSU and play at a higher level of competition. 
"I loved it," Holden said. "I loved Murray State, where I was at, but coming here, playing the bigger teams, playing in Eck Stadium, just getting the relationships here. I really needed it to grow as a person and I really enjoyed it."
WSU has had a disappointing 2022 season, as the team currently possesses a 15-29 record and is headed toward the program's first losing season under Head Coach Eric Wedge. 
Even with the frustrating season, Holden said he's still pleased with his decision to come to WSU.
"We're in almost every game and that's almost the hardest part about it," Holden said. "Every game's usually close, there's only been one or two games that we just got absolutely killed but when you're losing and one ball doesn't go your way it's kind of tough because you're just waiting for something good to happen."
In his last season at Murray State, Holden tallied nine career saves but has had limited appearances late in games this year with WSU. Holden has made 19 appearances as WSU's closer this season but has pitched rarely in close games, tallying only four saves this season. 
Holden currently has a 2.80 ERA this season, the second best of any WSU pitcher this season.
"The last couple years I've been really good at closing," Holden said. "That's what I train myself to do, that's what I prepare myself to do. To not get those save situations, I've had to prepare a different way. I'm hoping that now that we're winning, maybe I can get a couple more saves and get back to what I'm here to do."
The Louisville, Kentucky native was one of the veterans on a young WSU baseball team this year and Holden said he is hopeful that some of the younger pitchers in the bullpen are able to take away his mentality on the field from his one season as a Shocker.
"I take it super seriously, I'm super competitive," Holden said. "I know my role and no matter what, I prepare like it's going to happen and I think that's the one thing I hope the bullpen people see is that we might be down five runs, we might be down six runs and I'm still preparing like I'm going to pitch that game."
With the losing skid over the second half of the season, Holden said it made it more difficult to take it all in from his final year in college. But on the bus ride back from the series win in Memphis last weekend, the end started to set in for Holden as it was his final roadtrip in college. 
"I've kind of lost the grand scheme of things because we've been losing a lot but now I want to try to get back to enjoying this because no matter what happens after the season, these are the last 13-14 games of my career," Holden said. "It's been an awesome career but it's kind of getting real right now. This is the end, I don't have a next year."
Holden said that he is hopeful to make it into the MLB Draft League and try to further his baseball career at the next level. But if that doesn't work out, he'll pursue a job with his engineering degree.
Leave a Comment
About the Writer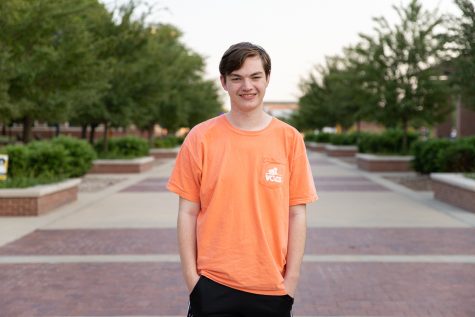 Sean Marty, Former sports editor
Sean Marty was the sports editor for The Sunflower. Marty, a senior from St. Louis, majored in communications with a journalism emphasis and minored in...