Okere, Martins campaign focuses on increasing engagement and improving accountability
Iris Okere and Sophie Martins are one of three teams running for student body president and vice president.
They are focused on five platforms: transparency, civic engagement, diversity, student retention and accountability. These platforms share similar points with the current Student Body President John Kirk.
Okere serves as the Diversity Empowerment and Inclusion committee chair for Student Government Association (SGA). She has served in Wichita State's student government for about a year and is an underserved senator. She spoke of her time as chair and how that experience would help her as president.
"We have a lot of diversity efforts on this campus and things that are supposed to be implemented, but they're not," Okere said. "We as a committee focus on how are we best representing underserved populations."
Okere said she knew she wanted Martins as her running mate after working with her and hearing her speak in the Student Senate.
"I saw myself going to her consistently," Okere said.
Martins serves as the advocacy assistant for Student Engagement, Advocacy, and Leadership (SEAL) where she works with the Shocker Support Locker. The locker focuses on combating food insecurity for students, faculty and staff.
Campaign points
Okere and Martins said that they plan to increase accountability if elected, as well as have the association better serve the students. Okere said she witnessed issues with accountability throughout her time in SGA.
"We want decisions, that are being made on behalf of students, to actually come from students," Okere said 
The duo said they want students to be aware of what the student government is doing. SGA is funded through student fees, meaning students' money goes to the organization. 
"A lot of money falls into this, and it's a lot of your money," Martins said. "That's something I'm wanting to increase — just people understanding what SGA is doing, and what we're achieving on campus with their student fees."
Okere said she values diversity on campus and wants to ensure students from all backgrounds are heard.
"With WSU being the most diverse population in the state of Kansas, I think we could be doing a lot more," Okere said.
Okere continued the program called "Let's Talk About It," a tabling event where the group engages with students and talks about various issues.
As far as student retention, Martins said this is something she is already working on. She said that first-year student retention at Wichita State is better than the national average, but it could be better. 
Martins said they also want to increase awareness of different groups and activities on campus so that students can experience a greater sense of community.
"I know I felt connected as soon as I found rowing and student government," Martins said. 
"Those are two things that I was like, 'okay I found my people' … and I want to give an opportunity to all students that they can actually have that."
Martins said they want to increase the number of events, like the Involvement Fair, where students can learn about the options they have on campus. They also want to increase the number of weekend events for the students that live on campus.
"I will do my absolute best to ensure that everyone is heard," Okere said. "You have your voice, let's use it. We're going to make something shake, we're going to make some motion."
More information about their campaign can be found on Instagram: okeremartins66.
The student government presidential and vice presidential debates are at 6 p.m. on March 23 and 28. Voting will be held April 3-5 in the Rhatigan Student Center.
The other candidates running are Zane Berry and Nicholas Harmon and Noah Carter and Jonathan Stanger.
Leave a Comment
About the Contributor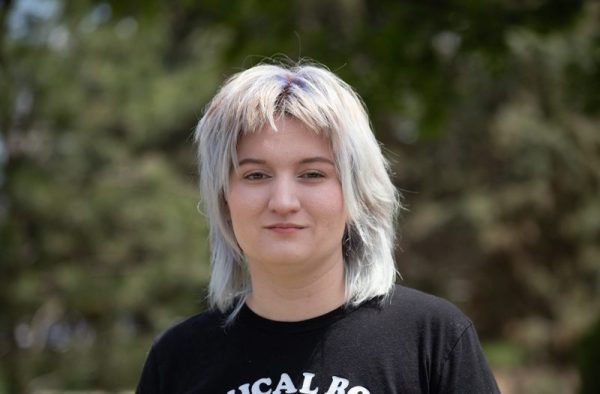 Sarah Beauchamp, Former reporter
Beauchamp was a reporter for The Sunflower.