First in running: Carter, Stanger join race for student body president, aim to improve government's accessibility and mission 
Noah Carter and Jonathan Stanger said they hope to create a student government that directly reaches out to students.
Carter and Stanger announced their campaign to run this month, the first president and vice president candidates to do so.
"We think we have some policies that we could implement and help students," Carter said, "and we want to be a better voice for students than they've had in the past."
Carter and Stanger have three campaign priorities: connection, reachability and advocacy.
"If you're not going to students and asking them what they need, then you're not gonna get the full perspective," Carter said. "Because there might be students that don't want to come up to a table. They might be nervous or scared, or they might just not think their opinion's valid."
Carter currently serves as SGA's Health and Wellness Director, working with Student Health Services and Counseling and Prevention Services on projects to promote students' wellness.
Stanger is the Student Organizations Director and on the Housing Contracts Appeal Committee. He hosts monthly meetings with Recognized Student Organizations and has helped make RSO budget information more public.
If elected, the team plans to foster connections between students and their colleges and university as a whole. They hope this improves university retention as well, which currently sits around 70%, meaning around 30% of students leave Wichita State after their first year.
"I think connecting students with not only their college, but the university, is important to their success," Carter said. "So advertising (colleges' ambassador programs), talking to the deans, talking about colleges, getting them connected."
For advocacy, the candidates emphasized directly speaking with students, a goal of personal importance to Carter.
"I might not know what a student that has ADHD goes through, but I know how it feels to have autism," Carter said. "It's important to go out and talk to people and bring that information back."
Both candidates plan to ask student organizations about their concerns. Stanger would also prioritize discussions with legislators.
"To see how can we push our information, in that how can we reach as many people as possible," Stanger said.
The pair also hopes to increase SGA's accessibility across different campuses.
"I want to see student government tabling everywhere in different main buildings," Stanger said. "But also to serve the students that are on campus, to go to WSU south, east, west and north."
Carter and Stanger want to expand the free menstrual products bill, which Carter helped pass last fall.
"I think that something that SGA commonly overlooked is that main campus is not the only campus that WSU owns," Stanger said. "Personally, I would love to see those (free menstrual products) be put in all of the new campuses that we have as well."
Stanger is also a proponent of expanding the Shocker Support Locker, a food pantry open to students, staff and faculty.
"I think that food insecurity is still one of the number one issues that students have at WSU right now," Stanger said. "And I think that as long as that is the number one issue, that is something that should always be improved upon."
SGA has had three different presidents over the school year so far; Carter acknowledged that SGA has been "hectic."
He said he hopes that his administration would provide the student government with stability from the start.
"Having that direction right at the beginning, to know what we're going to do," Carter said.
The duo said that their current SGA roles and experience as transition mentors have prepared them for office.
"We're literally trained to know every inch of campus and to know every resource that is available to students," Stanger said. "I think that you will not find two candidates who are more connected to campus than the both of us."
SGA presidential and vice presidential debates will occur at 6 p.m. on March 23 and 28. Voting will open on April 3.
Two other candidates are running: Zane Berry and Nicholas Harmon and Iris Okere and Sophie Martins.
Leave a Comment
About the Writer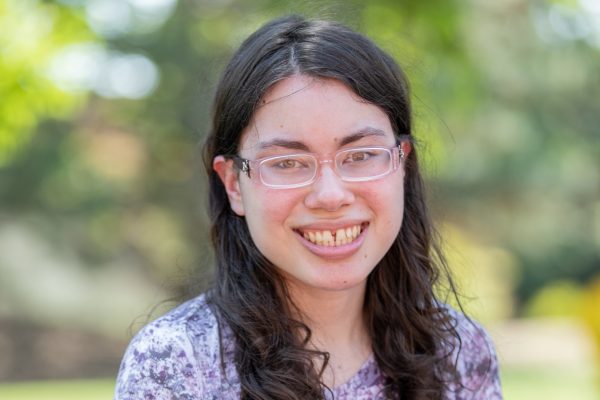 Courtney Brown, Investigative News Editor
Courtney Brown is the investigative news editor for The Sunflower. Brown previously worked as a reporter and assistant news editor.