Student body president and VP candidates debate for first time
With student government elections just around the corner, three tickets running for president and VP debated Thursday night in an attempt to win over students' votes.
Iris Okere and Sophie Martins discussed their campaign points, which include transparency, civic engagement, diversity, retention and accountability. They tied accountability to issues on campus.
"We don't have accountable parties," Okere said. "There are things that are being tasked to do, but there's not somebody being held accountable. Holding people to the Shocker standard is something that we are taking into our campaign."
Okere has been SGA's Diversity Empowerment and Inclusion committee chair for almost a year. Martins works at the Shocker Support Locker as the advocacy assistant for SEAL.
Noah Carter and Jonathan Stanger, the first ticket to declare their candidacy, are platforming on connection, reachability and advocacy.
"You can't represent students if you don't know what their concerns or needs are," Carter said. "We're not only representing main campus students, we're representing every fee-paying student at Wichita State University."
Carter serves as SGA's Health and Wellness Director, meaning he works with Student Health Services and Counseling and Prevention Service. Stanger is Student Organizations Director and on the Housing Contracts Appeal Committee as well.
Zane Berry and Nicholas Harmon laid out their goals under the word "win" or "winning" strategy.
"'W' is for widening the freedom of expression on campus for students and faculty," Berry said. "'I' is for implementing sound financial policies in our organization to allow students and organizations to be funded for the services and opportunities that they need to thrive. 'N' is to negotiate the housing contracts on campus and the housing atmosphere to where it's more student based, more flexible for the students and to make them feel like they're at home."
Berry ran for vice president last year with William Shropshire. He has been an SGA engineering senator for two years. Harmon is senator and chair of SGA's Ways and Means Committee.
At the debate, moderators asked the candidates a question. Each would have time to answer, as well as time to rebuttal any other candidates. Many of the questions focused on diversity among students and student organizations.
In response to a question about SGA having had diversity, equity and inclusion issues, Harmon said he and Berry's campaign centers around community interaction.
"To make sure that we're giving them the resources that they need to let them know that they have a seat at the table," Berry said. "Give them a chance to let them know that they're Shockers and should be treated like everyone else."
Carter said that SGA is "a bridge or platform for minority students."
"It's our duty to focus these bridges and platforms on minority students," Carter said. "Make sure that these students have a say and to make sure that we're actually fighting for and protecting the students in which we're supposed to serve."
Okere suggested hiring more people of color to help students feel better represented and connected.
"It's very important to make (WSU) more inclusive," Okere said. "By seeing people that look like you (it) creates some type of attachment to the university,"
Hispanic students make up 16% of WSU's population, meaning the university is on track to becoming a Hispanic Serving Institution — a institution with 25% Hispanic students.
When asked about WSU's efforts to become a Hispanic Serving Institution, Berry and Harmon said they believe in promoting equality and opportunities both at WSU and abroad.
"We can give students more of an opportunity to be in a more diverse environment, to get to meet new people," Berry said. "And to understand another point of view and another aspect of life. Meeting the students where they are and bringing them together is really what being a Shocker is all about."
Carter and Noah said that Wichita State should look to other schools for ways to better support a diverse student body.
"As WSU moves towards a Hispanic Serving Institution, that we don't just act or say that we are, we actually serve the student body," Carter said.
Okere and Martins said SGA can focus on the Wichita community as well as WSU and work with other student government's to better support Hispanic students.
The debate ended with a question from the audience: What will the candidates do to support the LGBTQ+ community, specifically the trans community, due to recent legislation against the community?
Okere and Martins discussed the importance of safety and making sure that pronouns are being respected by faculty. In November, Okere and a former senator worked to tackle misgendering on campus.
"The educational piece of what goes on in the LGBTQIA community is another thing," Okere said. "I know that misnaming or misgendering can be the last straw for people."
Carter said that his campaign has proactively listened to the trans community by attending a Spectrum event surrounding trans identity.
"We were candidates learning from them and talking to them," Carter said. "We will continue to support those students as president and vice president. Because, regardless of what you identify as or where you are in life, you still deserve that respect."
Harmon said 'everyone is welcome in our Shocker family.'
"It's very important that we make it very clear that everyone — regardless of their gender identity — they have a place in this university," Harmon said.
To view the debate and see other topics discussed, visit SGA's YouTube.
Another debate with different topics for the candidates will be held on Tuesday, March 28 at 6 p.m. at the RSC in the Sante Fe room. The event will be live-streamed. Students can ask questions via the YouTube chat or submit questions at the debate.
SGA voting takes place from April 3-5. Students can vote in the RSC or online.
Leave a Comment
About the Contributors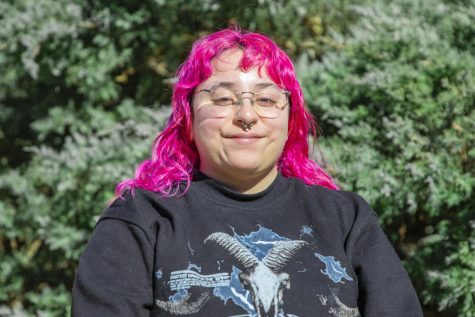 Araceli Lemus, Former reporter
Lemus was a reporter and photographer for The Sunflower.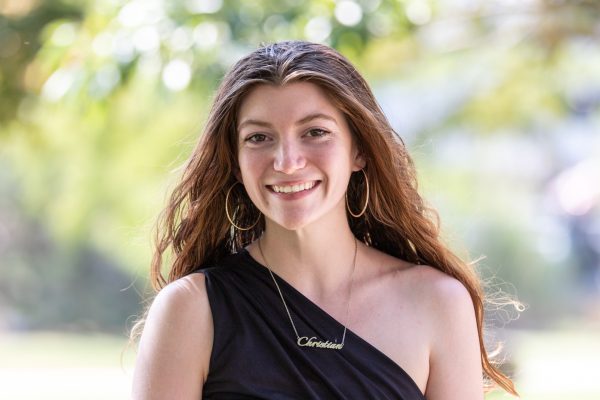 Kristy Mace, Photo Editor
Kristy Mace is the photo editor for The Sunflower. She's majoring in psychology. Currently a junior, Mace hopes to go on to get her Ph.D. and become a...