Student Government Association holds inauguration for next session
The Student Government Association held its inauguration for members of the 66th session Thursday, where Iris Okere, Sophie Martins and Maureen Wetta were sworn in as student government president, vice president and chief justice, respectively. 
Newly elected SGA senators were sworn in at this time as well.
Winning nearly half of the election's votes, Okere and Martins won the presidential race on April 5.
The Judicial Branch selected Wetta for chief justice earlier this month. She was approved by the Student Senate on April 12. 
President Rick Muma attended the inauguration and spoke in support of the student government and newly elected members.
"Congratulations on this momentous occasion," Muma said. "We're looking forward to working with all of you on the 66th session so that we move forward as an institution."
Vice President of Student Affairs Teri Hall spoke to the previous session and referenced the changes in leadership in the fall — before the former Student Body President John Kirk took on the role.
"Considering some of the rocky leadership that we started with, to end up where we did is outstanding," she said. "I hope that you feel proud, and realize that you've left the organization and institution better because of the work that you did."
Hall addressed Okere and Martins about the importance of the next session. 
"Iris … you are the first Black Afro-Latina woman ever to hold this position," Hall said. "It's about time."
After being sworn into office, Okere addressed various stakeholders at the university as president. She thanked the student body for electing her, as well as Martins and other SGA members for their support.
"Together, let us strive to make Wichita State University a better place for our students," Okere said. "Your voice matters, and we are committed to serving you with dedication and passion." 
Kirk said he worked with both Okere and Martins during the previous (65th) session. Kirk said he wouldn't want to sign his position over to anyone else.
"Seeing where we were to where we are … where we're potentially going to be going is amazing," Kirk said. "I'm really proud of everything they've been doing."
Members from the Black Student Union attended the inauguration in support of the new leadership as well.
"It's really nice to see representation in the SGA," Neymara Freeman, vice president of BSU, said. "Sometimes, we're lacking that in Senate. It's really nice to see … her support for the Black organizations on campus."
To view the inauguration in full, visit SGA's YouTube page.
Leave a Comment
About the Writer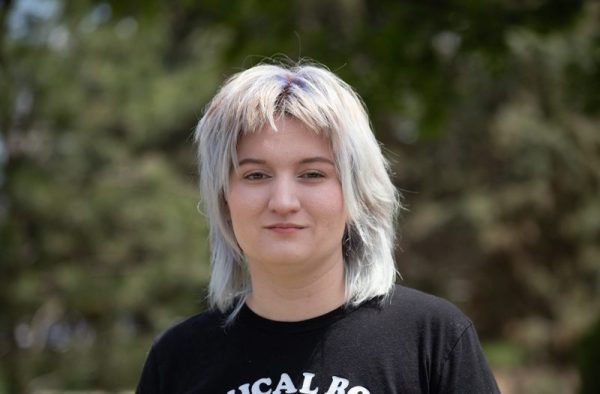 Sarah Beauchamp, Former reporter
Beauchamp was a reporter for The Sunflower.