'We're going to shake the room': Okere, Martins share how presidential campaign points will manifest 
When asked what general message should be relayed to the student body to help them get to know their new Executive Branch, Student Body President Iris Okere referenced her campaign slogan "Level Up." 
The phrase stems from her plans to bring Student Government Association (SGA) to a new "level" for the student body.
"'Level up' came from a conversation I had with my mother," Okere said. "I was sitting in the dining hall, and I was just venting to her because … I didn't really know what I wanted. So she was like, 'Iris, it's time for you to level up.'"
The pair comes into a role that experienced instability over the academic year, having three student body presidents in less than two months.
Student Body Vice President Sophie Martins said that she thinks confidence in student government has gradually begun to be restored since then. 
"We definitely have plans that we want to make sure all students are being heard on this campus and that SGA is genuinely for students," Martins said. "Not just this separate thing, and not something where people are leaving left and right." 
Okere and Martins said they would serve the university by prioritizing student voices and promoting communication between the student body and SGA.
"At the end of the day, we're all students," Okere said. "We understand the struggles and adversity that you go through because we go through them as well … I have a (parking) ticket right now." 
Martins said that listening to students and their needs will be a vital process in the upcoming session. 
"Iris and I both are a lot like sponges," Martins said. "If you tell us anything … we are going to find a way to figure out what are all sides of the story (and) what are all ways that I can possibly help you out."
Okere and Martins have similar presidency goals to former Student Body President John Kirk, like addressing parking and working on student outreach. Okere and Martins also hope to tackle issues regarding student retention.
Martins feels that the key to alleviating low student retention rates is giving students a space where they feel comfortable to work through struggles without leaving.
"Many students face a lot of challenges, academic or personal, and we really recognize that," Martins said. "We want to work to create a welcoming and inclusive environment for all those students to stay and find a home."
During their campaign for the presidency, Okere and Martins ran on five points: transparency, civic engagement, diversity, student retention and accountability. 
The pair said transparency is essential to them. 
"I think a lot of issues with transparency come from the lack of … accessibility of students getting to this information (about SGA)," Okere said. "At the end of the day, we should be as accessible as possible."
When asked for an example of how accessibility could be improved, Okere stressed the importance of office hours and mentioned plans for physical reminders to speak to SGA posted around campus. 
Okere and Martins said they want to prove their dedication to providing transparency about the university budget. 
SGA is in charge of student fees and funding for student organizations. This includes the fees charged for credit hours, student support initiatives, like the YMCA, and campus infrastructure. A complete breakdown of how SGA allocates student fees can be found here. 
"Our budget is all public … but some people don't know that," Martins said. "Something that goes along with the idea of transparency (is) we plan to make sure that the website is updated."
Currently, the yearly budget is available in the form of an 859-page document or a two-page summary online. 
While the pair said they don't have a clear process on how to make the budget more accessible, Martins' vision for a more accessible budget includes an updated website with tabs for how money is allocated for each campus organization. 
As former diversity and inclusion chair, Okere plans to continue her work in promoting and maintaining diversity on campus as well. She and Martins emphasize that each student has a unique perspective to bring to the table.
"What I learned in this past session is if you want to make a difference, you genuinely can," Okere said. "If you want to pass a policy, if you want to make a resolution, you have the ability to do that as a senator, and don't take that for granted."

Leave a Comment
About the Writer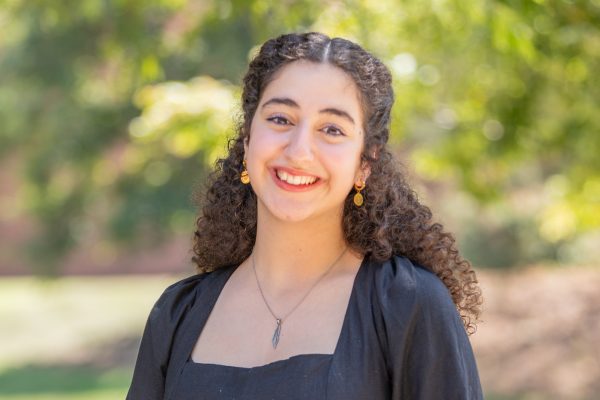 Salsabila Attaria, Arts and Culture Editor
Salsabila Attaria is the arts and culture editor for The Sunflower. Attaria is a health science major.  She previously worked as a reporter and assistant...