Shamet's absence showcases Shockers' depth
No. 13 Wichita State defeated Tulane 93-86.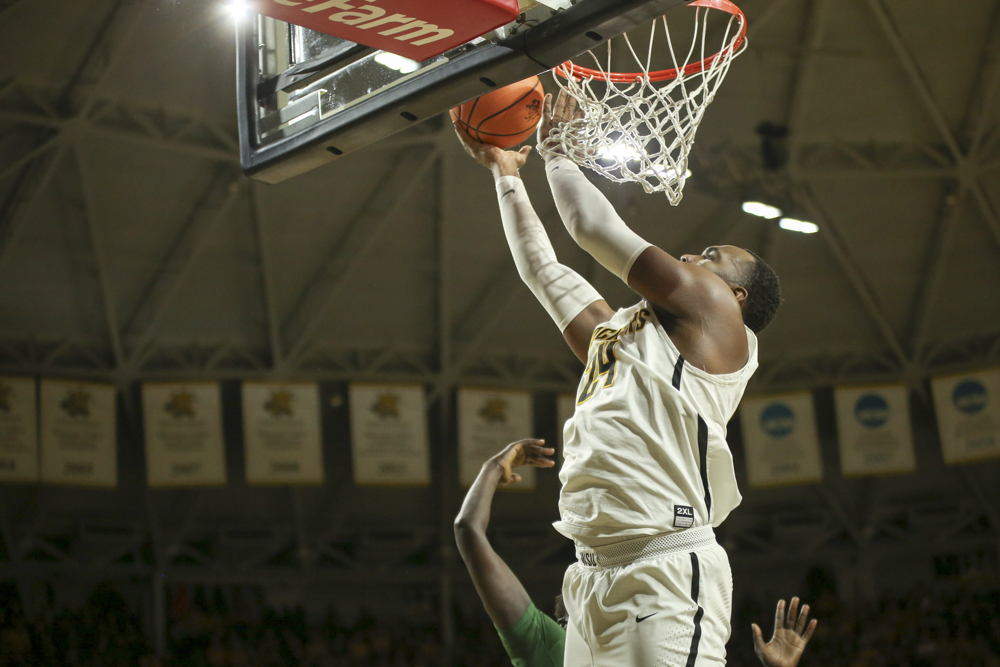 No. 13 Wichita State allowed Tulane to get too close for comfort.
With a 16-point lead at the half, The Shockers watched The Green Wave's double-digit deficit vanish right before their eyes.
With the help from some unlikely scorers and 39 bench points, The Shockers were able to pull out with a seven-point victory.
Wichita State's leading scorer, sophomore guard Landry Shamet, did not play due to illness. His absence snapped a streak of 61-consecutive starts.
In Shamet's absence, the opportunity opened for Head Coach Gregg Marshall to showcase just how deep his bench is.
Senior guard Conner Frankamp got back in the starting lineup after previously being replaced by sophomore guard Austin Reaves.
Frankamp took advantage of his time on the court to take control and "direct traffic."
"I thought he was good the whole game," Marshall said. "On the offensive end, he ran his team for all 32 minutes. He directed traffic, was pressed, bumped, trapped, and never turned it over."
Frankamp's production made such a big impact on the team Marshall believes the game depended on him.
"On the other end, they tried to take advantage of him by posting him up and bullying him a little," Marshall said. "All in all, we don't win the game without him."
Tulane's coach, Mike Dunleavy, Sr., former NBA player and coach, agreed that Frankamp was the difference maker.
"I thought he was off the chain. He was great. I thought he was the difference in the game…He's smart, knows how to shoot, he's a playmaker," Dunleavy said. "He just shredded us…as far as I am concerned, he was the MVP of the game."
The senior guard finished with 18 points, two of which were from the line, making him 28-28 for the season. His 29-consecutive makes is tied for the fourth-longest in Wichita State history.
Another major contributor to the game was sophomore guard C.J. Keyser. Keyser, who has been averaging 2.2 points per game, finished with 11. Not only that, but he made all seven free throws.
His clutch free throws helped Wichita State get a more comfortable lead after Tulane closed their deficit to four with 36 seconds remaining.
"C.J. Keyser had tremendous minutes. He made 7-of-7 free throws, which were huge down the stretch," Marshall said. "He looked very poised, and he looks like he belongs out there, so that's good for the future."
With Marshall keeping Keyser in when the game got the closest it had ever been, his teammates had confidence and faith in him.
"It's really cool for us, we knew he would be ready when he got his opportunity," Frankamp said. "There are days when he dominates practice, and when he got in there, we knew he would produce for us. He did exactly that for us today."
Junior guard Samajae Haynes-Jones also saw double-digit minutes adding five points and a rebound.
Senior center Shaquille Morris dominated the paint with 25 points—matching a career-best. He also finished with nine rebounds and two blocks.
"When the guards are giving me the ball inside, and they want me to dominate, I am always confident touching the ball in the post," Morris said. "It's just about making the right moves and playing inside out."
Although Marshall was able to show off his depth, he still wasn't completely happy with how his team played, especially on the defensive end.
"If we don't outscore them tonight, we lose the game because we can't get stops," Marshall said. "If we don't start defending better, we're fool's gold."
The Shockers head to SMU on Saturday for their third-to-last regular-season game. Tipoff is at 1 p.m. and will be broadcasted on ESPN.
About the Writer
Aliyah Funschelle, Sports Reporter
Aliyah Funschelle was a sports reporter covering men's basketball for The Sunflower. She's a junior studying sports management at Wichita State, and currently...