Shockers determine inaugural season fate on Sunday
The fate of No. 11 Wichita State winning a share of the regular-season title and the No. 1 seed in the conference tournament is all determined Sunday as No. 10 Cincinnati travels to Wichita for their regular season finale.
Although a win would secure the title and a one seed for Wichita State in their inaugural season, it would also prevent Cincinnati from winning the conference title outright.
If The Shockers can't pull out with the win, they will likely finish second in the regular-season and a No. 2 seed depending how the remaining teams finish out on Sunday.
"If we win the game, we are regular season champions and a one seed. We put ourselves in position to make this a very good transition," Head Coach Gregg Marshall said.
"If we lose the game, there is nothing to be ashamed of there. In the end, I think it's going to be a positive..I think it's a positive day from our standpoint and hopefully the league's standpoint."
"[Winning] would mean that this two and a half months we proved to be one of the best, if not the best team in the league," Marshall said. "That's good, especially like I said, that we moved up a couple of weight classes and these guys met the challenge."
In the last meeting between the two teams, The Shockers brought down the Bearcats by four points, snapping their nation-best home winning streak of 39 games.
Sunday is just the second time in the last 26 years for an AP top-10 team to go up against The Shockers on their home court.
The last time was in 2015 with almost identical circumstances. In that game, No. 11 Wichita State defeated No. 10 Northern Iowa by 14 in a winner-take-all battle for the Missouri Valley Conference title.
Cincinnati has been on a three game win streak after dropping two-straight to Houston and Wichita State.
They have been averaging 76.1 points per game while holding opponents to an average of 57.2 points per game. The Bearcats also average 39.3 rebounds per game with an 8.0 margin along with a 1.4 assist/turnover ratio.
The Shockers have been averaging 83.9 points per game and holding their opponents to an average of 71.1. They have a 10.1 rebounding margin, averaging 40.9 rebounds per game as well as a 1.6 assist/turnover ratio.
In addition to the regular-season finale on Sunday, Wichita State is also honoring the seniors—The Shockers' largest senior class in 42 years.
"[The seniors have] really done a lot, in terms of giving energy and time and commitment, dedication to this program," Marshall said. "In essence, they've helped build the program to where it is today."
Marshall thinks all six of the seniors have developed and matured each in their own ways in their time at Wichita State.
"You're appreciative of their efforts and the way they conduct themselves, on and off the court. You are sorry to be losing them to whatever their next venture is in life," Marshall said. "That's college, they come here to develop and mature and get better, smarter, deeper as human beings."
The seniors moving on with their lives applying their experiences and knowledge that they have received at Wichita State is what "coaching is all about" to Marshall.
"Then they go on and storm and take their talents to wherever they go," Marshall said. "They're all going to get degrees, and they're all going to be successful in life, and that's what coaching is all about."
Tipoff is at 11 a.m. with senior day activities to follow. It will be broadcasted on CBS—their first broadcast in the Roundhouse.
Leave a Comment
About the Writer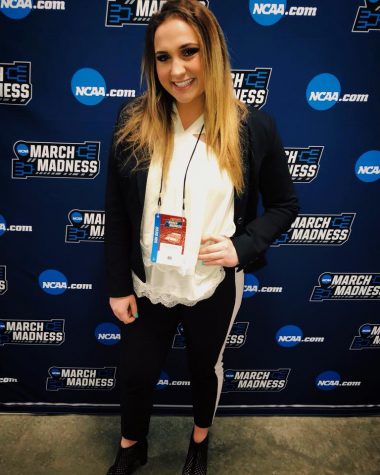 Aliyah Funschelle, Former sports Reporter
Aliyah Funschelle was a sports reporter covering men's basketball for The Sunflower. She studied sports management at Wichita State, and worked as a Campus...