'Bitter or better': Rowell rises through tragedies to leadership role
What do you do when what are supposed to be the best years of your life turn into the worst?
For newly elected Student Body Vice President Shelby Rowell, the answer to that question is what led her to Wichita State and, ultimately, to her leadership role with Wichita State's student government association.
It's been a rough few years for Rowell, a senior, with one tragedy after another shaping her life. After graduating from El Dorado High School, Rowell, the middle sister of fraternal triplets, went out of state to pursue a degree at Coe College, a private liberal arts college in Cedar Rapids, Iowa.
Rowell and her two sisters, Sally and Hanna, all three chose to attend different schools. Sally went to Manhattan Christian to play basketball and study education. Hanna went to Wichita State to pursue a degree in nursing.
Rowell chose Coe for its strong writing focus and impressive degree program in international studies.
"We had a saying at Coe, 'Coe sweet home,' and I absolutely felt that," Rowell said.
But before her first semester finished, she would find herself back in Kansas. Her sister, Sally, was killed in a car wreck.
"She had just played her first basketball game at Manhattan Christian College and she was coming home to see a friend in the hospital when it happened," Rowell said.
"She was the purest soul I think probably ever. She'd be a great education senator. I think about that a lot, but she was just a wonderful, wonderful person. I can't say enough good things about her," Rowell said.
Rowell came home to be with her family in the aftermath of her sister's death. She finished her semester from home. One semester turned into two, and then she eventually decided to stay around, in part, to be close to her sister, Hanna.
"We were always very very close," Rowell said, "so after this happened, that's one of the reasons I didn't go back to Coe is because I knew it would be devastating for Hanna, so that's one of the reasons I stayed.
"We're very close. We live together, talk together all the time — she's awesome," Rowell said.
But that wasn't the end of the tragic circumstances of Rowell's college years. Shortly after being elected as a student senator last spring, Rowell's dad died.
"My dad was, like, my person," Rowell said. "He was always the person that I went to for advice and he had a very similar personality to mine and we always joked around that I was the son of the group. … It's been extremely difficult just living life without his guidance and his mentorship. Especially SGA because there's so much stress that comes around that."
Then, weeks after drafting legislation to have additional signage posted for crosswalks on campus this spring, Kathy Hull, a visual resources coordinator in the Wichita State art school, was hit by a car while she using a crosswalk on campus.
"That hit me particularly hard," Rowell said, "just because anytime there's a death with any kind of motor vehicle accident, it's very draining for me. And to know that I wrote legislation about it three weeks earlier, and it actually wasn't put on the floor the week I wrote it. So I often go back and think, 'Well, maybe if it would have got put on the floor a week before it could have prevented it.'
"So it's something I still feel a lot of guilt about," Rowell said.
But it's these tragedies in Rowell's life that have focused her on her purpose: giving back and helping others by "magnifying" their voices through SGA and putting forth her best effort in her academics.
"I think the main thing for me at least is maybe not staying positive but just staying above it all, trying to at least," Rowell said of how she has been able to stay positive after the deaths of her loved ones.
"I found my studies, my academics, to kind of be my getaway. I couldn't really control what was going on in my personal life, but I could control the effort that I was putting into my classes," Rowell said.
"It's really hard not to be bitter when what you think is going to be the greatest years of your life turn out to be probably the worst years of your life," Rowell said.
But her grandma gave her a proposition she said she always keeps in her mind.
"One of the things my grandma told me when my dad died was 'You can either let this make you bitter, or it can make you better,'" Rowell said.
She said being better instead of bitter especially applies to her academics.
"My sister wanted to be a teacher and my dad was a huge academic, and finding an outlet to kind of preserve their memory and honor them has been really helpful. I think SGA has been a great way for me to do that. Because I'm impacting, hopefully positively impacting, students all around this campus while still giving my life some kind of meaning even though it seems like, you know, there really isn't any," Rowell said.
Rowell, a political science major working on a field degree in French who enjoys "nerding out" on foreign policy, said she hopes to eventually land a job at the State Department or with an IGO (intergovernmental organization) or NGO (non-governmental organization).
 "If that doesn't work out, I'd really love to be a professor," Rowell said.
Rowell's ambitions as student body vice president align with who she has become through a difficult situation. Her goals are simple: to get more students involved and to be prepared to respond when the unexpected happens, as it seems to so regularly with student government at Wichita State.
According to Rowell's grandma, there are two ways to respond to that kind of adversity: You can be bitter or you can be better. So far, Rowell's been doing better.
Leave a Comment
About the Contributors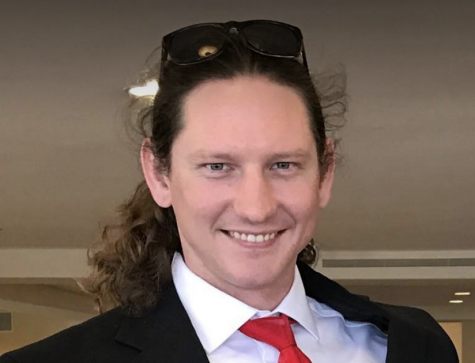 Chance Swaim, Former Editor in Chief
Chance Swaim was the Editor in Chief of The Sunflower from fall 2017 to spring 2018.

Swaim was a graduate student in the English Department working...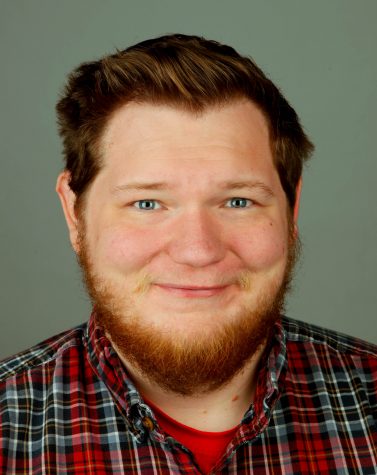 Brian Hayes, Former Photo Editor
Brian is the photo editor at The Sunflower. Hayes is a junior majoring in mass communication with an emphasis in journalism. He is from Wichita. Hayes enjoys...