Kansas Legislature passes bill requiring open student fees deliberations
If Gov. Jeff Colyer signs the latest budget bill passed by the Kansas legislature, Wichita State will have to open its student fees deliberations next year.
The Kansas Legislature sent a budget bill to Colyer with an amendment that will require Wichita State, and five other regent universities receiving state funds, to hold open deliberations and provide access to documents related to student fees.
If Colyer signs the bill, Wichita State, Kansas State, Kansas University, Emporia State, Pittsburg State, and Fort Hays State will have to follow the Kansas meeting act next year. Sen. Lynn Rogers (D-Wichita), who drafted the amendment, said in his research he found that the six regents universities collect about half a billion dollars in student fees.
"So, we're talking about a lot of money," Rogers said.
The requirement was originally written in response to The Sunflower and Wichita Eagle being denied entry to student fees deliberations this spring, Rogers said.
The Sunflower and Wichita Eagle were barred entry in late February, where representatives from student government and the university decided how to allocate between $9.5 million and $9.84 million in student fees. Wichita State's Vice President of Student Affairs Teri Hall, the chair of the student fees committee, and former Student Body President Paige Hungate.
The amendment was originally part of the Campus Free Speech Protection Act, which the Senate narrowly rejected in March after concerns were raised that the bill would not properly protect LGBT individuals from harassment.
When the state budget bill was sent back to fix an $80 million discrepancy, Rogers thought it was the right time to add the amendment.
"I thought here was an opportunity where we were talking about higher ed where we could do it. Typically, you don't add policy to the budget bill," Rogers said.
"It definitely was a response to what happened at WSU in the spring," Rogers said.
In its closed-door meeting this spring, the WSU student fees committee cut The Sunflower's funding from the $158,000 it requested to $55,000 closely following aggressive investigative reporting on student government and Innovation Campus developments. WSU President John Bardo later called for the deliberations to be held again, but this time in public.
After holding open deliberations, The Sunflower's allocation increased by $25,000 from the closed-door amount.
The Kansas Open Meetings Act allows the public to listen to and record meetings of various government agencies. Student government officials said the university's attorney advised them that student fees deliberations should be closed.
"Every other school board, city council, county commission, if you collect fees of some kind, they have to go through open meetings to allocate those or cut those or increase them," Rogers said.
Rogers said it's important for universities to be transparent when making decisions about spending.
"It gives the people affected the opportunity to tell the world what the impact of those cuts would be," Rogers said. "To me, it's very important that the participants of the different programs at the university get to do that. That that's not all made behind closed doors."
The amendment is a two-year provision, so unless the legislature writes it into law within the next two years, it will expire, Rogers said.
"But having done it for a year or so, hopefully will let us expand it and make sure all schools do that kind of a thing," Rogers said.
"I hope to do that next year," he said.
At this time, the amendment does not require community colleges to hold open meetings regarding their student fees process, but Rogers said he hopes they follow the same rules as the four-year universities.
"We did not include the community colleges," Rogers said. "I would hope they would follow it, too."
Leave a Comment
About the Writer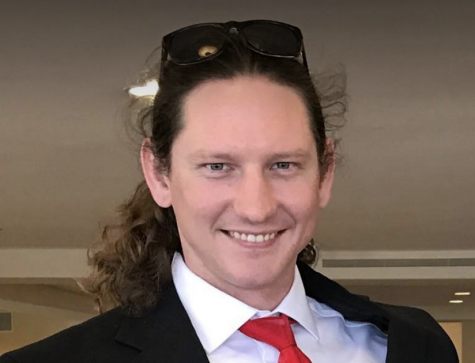 Chance Swaim, Former Editor in Chief
Chance Swaim was the Editor in Chief of The Sunflower from fall 2017 to spring 2018.

Swaim was a graduate student in the English Department working...