New NIL collective forms to help WSU student athletes make money
Armchair Strategies, WSU's first NIL collective, was formed by two formed WSU baseball players
With the emergence of new name, image and likeness deals recently, Wichita State has formed its first NIL collective. 
Tyler Weber and Tymber Lee, both former WSU baseball players, have formed Armchair Strategies, LLC, to help Shocker student-athletes earn money from name, image and likeness rules that were formed last summer. Both Weber and Lee are prominent businessmen in Wichita, with Weber serving as the director of business development for Aegis Group and Lee as the co-owner of the Wichita Sports Forum.
Armchair Strategies is WSU's first NIL collective, a stand-alone start-up company that helps create financial opportunities for athletes. NIL collectives can also be a larger company, for-profit or non-profit. 
When the NIL rules were established last summer, the WSU athletic department used a cautious approach and the athletes had to go out on their own to land NIL deals. But with this new collective, deals will be more accessible to the athletes. 
"Well I just think NIL is here in college athletics and it has a place and it's something that Wichita State needs," Weber said. "Whether people like NIL or not, it's here right now. It's something that we have to adapt to and the biggest thing we want to do is support the players."
Armchair Strategies will be the sixth American Athletic Conference program with an NIL collective in place, joining Memphis, Houston, SMU, Tulane and UCF. Armchair Strategies has been active early on with current student-athletes at WSU to help them start earning money. 
Weber and Lee have also partnered with Matt Baty, a Wichita native who has experience on an NIL Collective called 6th Man Strategies at the University of Kansas. Baty played a key role in signing all 18 players to the collective on KU's national championship winning men's basketball team. 
6th Man Strategies was also one of the first NIL collectives that was formed in late July 2021.
"This space has changed so much and so rapidly," Baty said. "We've been some of the leading individuals in this space to really push the change. We've been in this since the beginning. We've done a lot of things, learned a lot of things and we're really the agents that are pushing some of the reforms, some of the creative ideas nationally."
NIL's Impact on WSU's Roster Turnover
The new collective has already started to make an impact after nine players from the men's basketball program entered the transfer portal this offseason. Craig Porter Jr. has already decided to return to WSU for his final season of college basketball, solely because of Armchair Strategies. 
Porter announced on a social media post that he will be getting a car and a local sponsorship with local insurance firm Aegis Group. Porter had a breakout year this past season, averaging 7.3 points and 4.9 rebounds per game last season as the team's starting point guard. Porter also tallied a team-high 91 assists. 
"What most of these student-athletes want is they want to know the community around them is supporting them," Baty said. "There's been a misconception of NIL and the role it plays in the transfer portal but the type of money we're really talking about. 
"The vast majority of these deals are really just symbolic of the student-athlete knowing that there's a community that supports me, I have opportunities and that's what most student-athletes want."
The lack of an NIL collective at WSU was reportedly a key reason in some players deciding to enter the transfer portal this offseason. But with the emergence of the collective, some players are now considering a return to WSU. 
Combo-guard Dexter Dennis recently took official visits to Indiana and Clemson but according to Stockrisers' Jake Weingarten, the Shockers are still in contention for Dennis. Ricky Council IV, who also entered the portal, is expected to include WSU in his top-10 later this week. Council also did not appear on the early entrant list for the NBA Draft, after declaring earlier this offseason, and will likely play at the collegiate level next season.
Weber said another key to the collective is making sure the athletes stay eligible throughout the process. According to the NIL rules, there can be no "play-for-play" defined as direct compensation for athletic performance. Also, the athletes have to do something for the money they're getting.
"NIL is not a benefit if the kids are not compliant and eligible," Weber said. "There's no benefit if they can't be on the field or court. So, having that open dialogue is very important."
Baty said that a big misconception regarding NIL is that the deals are not connected to the athletic department, as the collectives are separate entities from the university. With his experience at KU, Baty said it is still important to keep an open dialogue with the athletic department about potential deals they are pursuing to remain compliant. 
"There's a lot of transparency that still has to happen and the athletic department is involved in that," Baty said. "What we've done at KU and what we hope to do at Wichita State, we just want to demonstrate that although we're not a partner with the athletic department, we're truly third party, we truly want to demonstrate ourselves as good partners."
View Comments(1)
About the Writer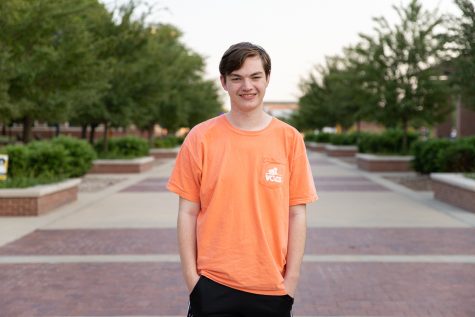 Sean Marty, Former sports editor
Sean Marty was the sports editor for The Sunflower. Marty, a senior from St. Louis, majored in communications with a journalism emphasis and minored in...