Best of Wichita: Do not miss out on these doughnuts
Hurts Donut voted Wichita's favorite
Satisfyingly tasteful cake doughnuts, airy yeast doughnuts and sweet, savory glaze are in abundance in Wichita. But the top spot in Wichita? That's enough to tear Kansas' largest city into a twist.
The Sunflower surveyed more than 350 people and respondents were so torn, only one vote separated Wichita's top two spots — The Donut Whole and Hurts Donut.
Hurts Donut, knocked off last year's previous winner, The Donut Whole, as 2017's Best of Wichita winner.
In voting, the two look eerily similar, with single votes separating the long-time Wichita homebody and the fast-rising yeast superstar, Hurts Donut, but the reason fan's love each is night and day.
Hurts Donut
Hurts Donut is new to the donut scene in Wichita. In no short time, they've taken over the doughnut scene.
Now, they're in two locations after a summer expansion to the east side of the city, popping up in a strip mall located on 37th and Woodlawn.
Hurts pushes the envelope with frosting and crazy toppings like edible cookie dough, fruit pie fillings and candies galore. Their selection ranges from oversized apple fritters and cinnamon rolls, to maple bacon long johns and candy-inspired classics.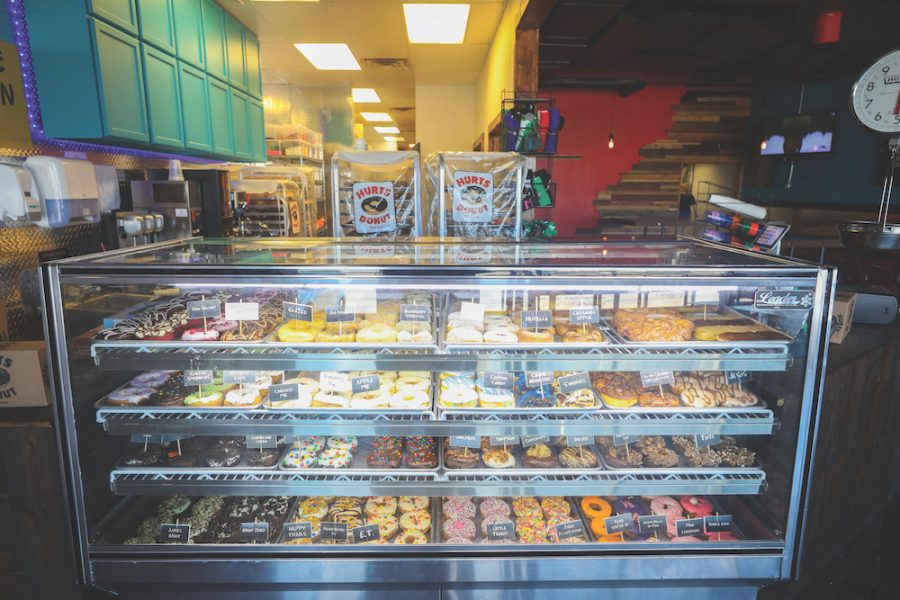 Review
Hurts Donut does frosting right.
Let us first be clear, there's little to nothing they do wrong.
Hurts Donuts has fun with frosting, toppings and more. Their attention is equally split between being visually appealing and tasteful.
They take good care of their doughnuts, keeping them in a conditioned display case preventing the toppings from going stale. It's worth paying extra for the higher quality — the ingredients and the care are a step above the rest. Every doughnut at Hurts Donut is moist and delectable, whether they're a satisfying yeast doughnut or a light and airy cake doughnut.
Their selection is always more of a variety to satisfy even the pickiest of confection connoisseurs. And the staff is kind admiring creators — they'll even go out of their way to custom-make you one on the spot (within reason), should you request for one.
Nutella Donut
How had we not tried this before?
BuzzFeed featured this savory slice of heaven in a column titled "33 Doughnuts You Have To Try Before You Die," and the logic makes sense.
The combination of the soft doughnut with the rich, hazelnut flavor of the Nutella housed in the middle make your mouth water before the donut leaves the cabinet.
Pro tip: For the best experience, smear the Nutella around the top for the smooth chocolaty spread worth every bite.
This deserves honors as the best doughnut at Hurts Donut, and even more so, the best doughnut in Wichita. There's simply no way to move up from this. It's incredible.
You'll be ashamed if you don't try this all star before you die.
Andes Mint
Should there ever be a need for an Andes Mint to be placed on a doughnut, you would want Hurts Donut to handle the operation.
Hurts Donut brings a slightly underrated candy and makes it better — noticeably better.
I'm not sure how the candy could have taken a step up by being on a doughnut, but the exceptional mint frosting on a light and refreshing doughnut does the job and does it well.
Please take a break for a round of applause as we celebrate the best in the business.
Jesús
Comparatively from their downtown competitor, Hurts Donut doesn't do simplicity the same. Cinnamon sugar-lined frosting with caramel drizzle on a white cake doughnut is about as simple as it gets for Hurts Donut — and that's not a bad thing.
Often regarded as a fan favorite, Jesús is a thing of beauty.
It's clean, and if the complexity of an over-the-top frosted king of doughnuts isn't your thing, Jesús might be.
The Donut Whole
The Donut Whole is a social media superstar, much like their rival counterpart. On Instagram, The Donut Whole was Kansas' top account in 2016, harvesting up likes for their delectable rotation of frosted creations.
Their selection has notable staples like the maple bacon doughnut or the tangy citrus-flavored glaze of the Bumble Bee.
They also offer a delectable selection of fan favorites also available in gluten-free varieties.
Review:
The frosting provides a delicious and refreshing start to the doughnuts, but that taste is quickly removed by the absorbing dryness of the cake itself. The doughnuts are not well kept — any cereal toppings are too stale for comfort.
Not all of their selection is dried out, but one haunting dry doughnut is hard to come back from.
And that's where the story begins and ends.
The staff isn't too excited about their creations — they haven't tried much of the selection, and they struggle to make recommendations.
Bumblebee
The Bumblebee caught our attention because of its bright yellowish-orange frosting with chocolate sprinkles. Citrus and chocolate is a challengingly nice mash up. The dried out chocolate cake doughnut will have you clinging to every bit of that mesmerizing citrus glaze. Delectable glaze on a doughnut too dry for comfort — and it's a shame.
Puppy Chow
The Puppy Chow doughnut takes the nostalgic snack food favorite and turns it into a chocolate doughnut topped with powdered sugar and chocolate pebbles. The Donut Whole puts this doughnut to shame by substituting actual Chex Mix cereal found in real puppy chow for Cocoa Crispies — and it's why this donut is a major loser. The tasteful peanut butter frosting is smooth and has little flaws to it, but you can't hide that under some of the stalest cereal bits you'll ever come across in your life. Get it fresh and this one maybe stands a chance.
Oatmeal Cookie
Simplicity brings The Donut Whole its arguably best doughnuts. It's refreshing, and tastes exactly like it should. The white cake doughnut is moister than its chocolate counterparts. A subtle, light dusting on a clean white frosting does wonders.
Leave a Comment
About the Contributors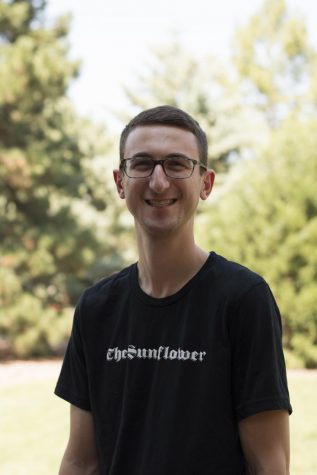 Evan Pflugradt, Former sports editor
Evan Pflugradt is the former sports editor of The Sunflower. Pflugradt past served as the publication's Editor in Chief, Opinion Editor and a reporter....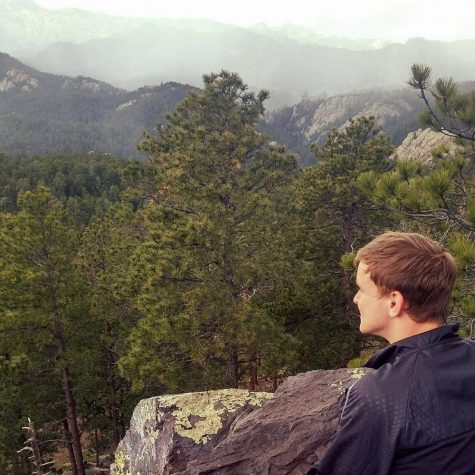 Sam Belsan, Former eporter
Sam Belsan was a reporter for The Sunflower.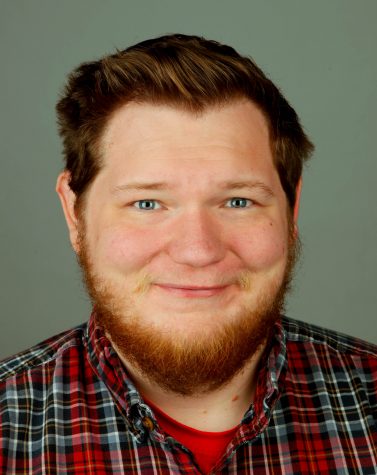 Brian Hayes, Former Photo Editor
Brian is the photo editor at The Sunflower. Hayes is a junior majoring in mass communication with an emphasis in journalism. He is from Wichita. Hayes enjoys...