Innovation Campus development moving forward out of the public eye
A Kansas senator and the Wichita Eagle editorial board have called for increased accountability for decisions made on Innovation Campus this week. Emails obtained through the Kansas Open Records Act show the concern has been shared by university officials since as early as August and that the YMCA project is moving forward outside of the typical competitive bidding process.
Many projects on Innovation Campus have been leased to the closely-held nonprofit Wichita State Innovation Alliance and then sub-leased to third parties without a public discussion, vote, or a competitive bidding process normally required for state-owned property.
Senator Lynn Rogers (D-Wichita) told the Wichita Eagle Sunday that the way projects are managed on Innovation Campus seem like a "work-around" to bypass public discussion and accountability.
In June, Student Body President Paige Hungate used that exact phrase to describe how the YMCA lease arrangement  on Innovation Campus was explained to her by John Tomblin, vice president of technology transfer and point person for development on Innovation Campus.
"I was talking to Tomblin this afternoon and he explained the whole leasing situation," Hungate said in a June 23 email to former Associate Vice President for Student Affairs and Wellness Maureen Dasey-Morales. "We would 'lease' the building for like $1 for 50 years in order to work around the state law that says one building cannot be dually owned on state property."
Dasey-Morales responded favorably to Hungate's information, saying it sounded "reasonable and more secure."
"It's a similar deal to what we are doing with the downtown boathouse then," Dasey-Morales said.
Asked if Tomblin used the phrase "work around state law" Hungate said Wednesday that she didn't remember the "exact verbiage" used by Tomblin. Tomblin did not respond to The Sunflower's questions for this story.
"It would be hard for anyone to recall exact words that anyone stated, but from what I remember, he did not say we were 'working around the law' by doing this. It was a poor choice of words on my part, but I figured that was the only way to explain it. This is not so much a workaround, but instead, it is addressing the law in a way that is very common," Hungate said.
"In order to allow this partnership to work, the University is leasing the space at a very minimal expense," Hungate said Wednesday. "This is normal on government property and should not be looked at as if the University is doing something wrong in this instance."
Not everyone is convinced. Wichita State administrators have defended Innovation Campus development repeatedly, and the Wichita Eagle called for increased accountability for building projects on the campus.
At the end of July, Tomblin sent a lengthy email to the President and CEO of the Kansas Board of Regents, Blake Flanders, defending the bidding process for Innovation Campus after a series of articles in The Sunflower and Wichita Eagle following Wichita State's decision to move students from university-owned Fairmount Towers to The Flats, a private apartment complex on Innovation Campus, after fewer than one in five beds were filled. The Flats is owned in-part by the chairman of the board of regents, David Murfin.
Wichita State announced the move before getting the required state approval in mid-July. At the end of the month, Tomblin wrote Flanders, responding to "press articles and anonymous comments" about the bid process and contract awarding on Innovation Campus.
"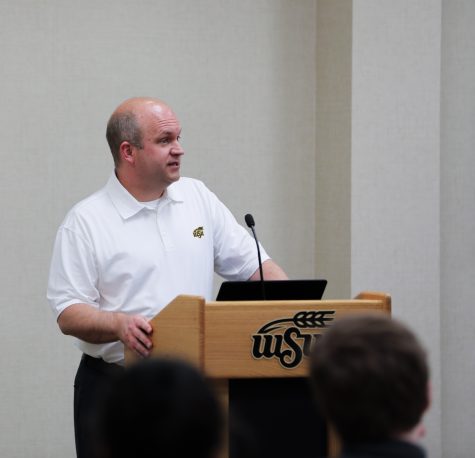 I thought it might be useful for you to have the factual documents that were followed, regardless of the fake news that seems to grab the most attention.
— John Tomblin, VP of Research and Technology Transfer
"I thought it might be useful for you to have the factual documents that were followed, regardless of the fake news that seems to grab the most attention," Tomblin wrote.
Tomblin cited the Experiential Engineering Building, Innovation Campus Utility and Infrastructure projects, and the parking garage, which were all awarded based on competitive bidding.
"Media articles would make one believe that bidding was not conducted and the MWCB constructed the entire innovation campus," Tomblin wrote.
But a large number of projects on Innovation Campus have been completed by Murfin's development companies, MWCB and BGC LLC, and awarded outside of the competitive bidding process. Projects by his companies include Starbucks, Airbus, The Flats, and Partnership Buildings 1 and 2.
Elizabeth King, president of the WSU Foundation, in a reply to Tomblin's e-mail to Flanders, explained someone had told her they "hoped the process for building the 'Y' was 'open' because if it isn't, a lot of people will be upset."
"I was stating the importance of competitively bidding the YMCA which, as you know, will be built on the Innovation Campus. I was provided a list of all recently-bid or completed major campus construction projects, along with the names of the contractors and their prices. I was very satisfied with the information provided," King said Wednesday.
In August, Eric King, associate vice president of facilities, wrote Tomblin, passing along information from Greater Wichita YMCA Board Chair Jim Korroch, who had met with local real estate developer Steve Clark and talked about a "storm detention issue" that would "be an issue taking this to the YMCA Board for approval."
In October, Tomblin scheduled dinner with three-fourths of MWCB (Nestor Weigand, Steve Barrett, Ivan Crossland) and two top YMCA officials, Korroch and President of the Greater Wichita YMCA Ronn McMahon. Also scheduled to meet for that dinner were Sam Sackett, senior manager of governmental relations and corporate communications at Spirit Aerosystems; Mark Nichols, vice president of governmental and public affairs for Koch Industries Public Sector; and Dave Jones, director of engineering and flight operations at Bombardier Flight Test Center.
Tomblin did not respond to The Sunflower's questions about this dinner or development of the YMCA on Innovation Campus.
"I'm having more and more questions about how business is done there," Sen. Rogers told the Eagle. "And it has caused a lot of conversation in the hallways between legislators that aren't necessarily from Wichita."
On his Facebook page, Sen. Rogers explained his comments to the Wichita Eagle.
"The Innovation Campus holds promise, but it should not be expanded to the detriment of the students (as the decision to close Fairmont Towers student housing, or passing the cost of building a YMCA on campus directly to the students) nor should expansion decisions be secret. We must have a public discussion."
Leave a Comment
About the Writer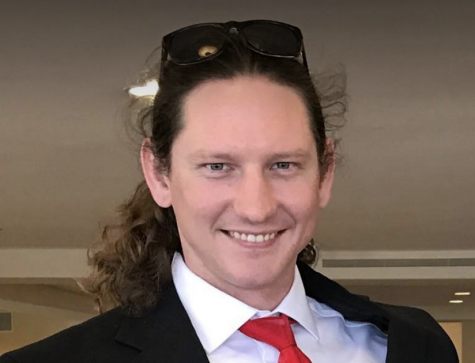 Chance Swaim, Former Editor in Chief
Chance Swaim was the Editor in Chief of The Sunflower from fall 2017 to spring 2018.

Swaim was a graduate student in the English Department working...