Bigs' versatility leads Shockers to 18-point victory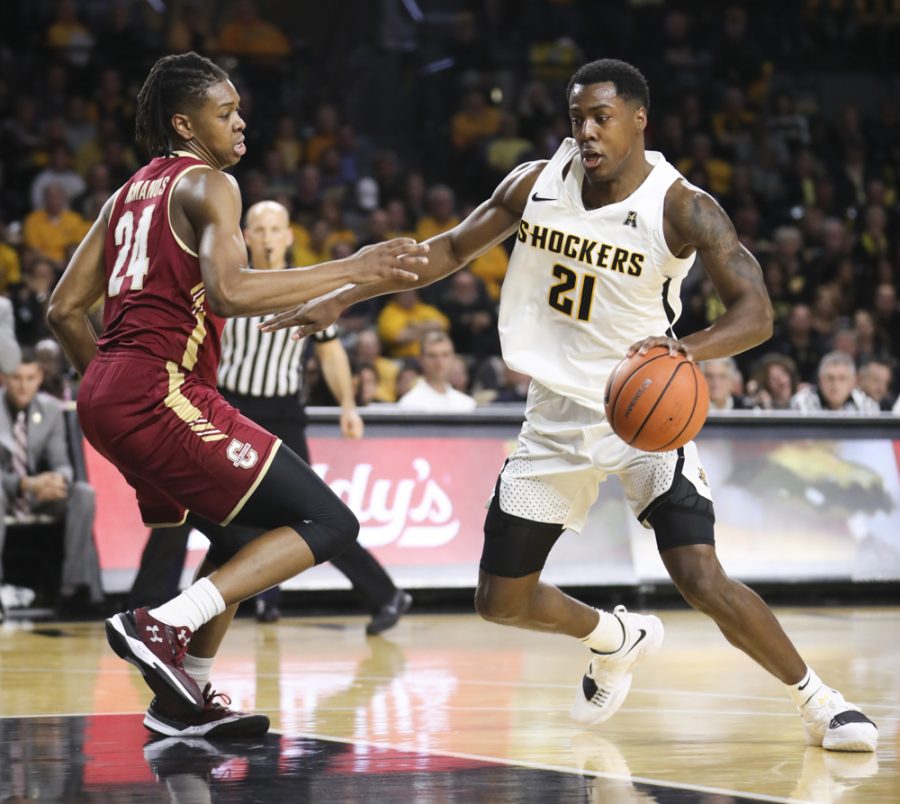 No. 6 Wichita State has shown opponents that they have more to offer than the "true five" lineup: they have bigs that pose as a threat from the three.
The bigs, senior centers Shaquille Morris and Rauno Nurger and senior forward Darral Willis have versatile skills.
Those skills were demonstrated in Monday night's 81-63 victory over College of Charleston.
"Our advantage was in the paint tonight," Head Coach Gregg Marshall said. "…We're playing big. A lot of people are playing small ball, were playing large ball."
The bigs led The Shockers in scoring. Morris was the leading scorer with 18 points, Nurger with 16, and Willis with 14.
Morris, who has gotten more comfortable from the three, went 2-4 from beyond the arc.
"I've been feeling confident," Morris said. "When you get that confident, you start hitting shots like  that and good things happen."
Wichita State has been focusing on an inside-out offense, which Morris believes will be effective.
"Coach Marshall wants us to play inside-out. This team does a really good job of playing inside-out and letting everything come into play," Morris said. "When you do that it makes this team very effective."
Marshall played against his former assistant coach, now the head coach of Charleston, Earl Grant. Grant was alongside Marshall for six years: three at Winthrop, from 2004-2007, and three at WSU from 2007-2010.
Despite Grant knowing how to scout The Shockers, Marshall believes Wichita executed and scored well.
"We knew we weren't going to fool them, we knew they would be well scouted. They knew our stuff, they knew our calls, they knew our signals, they knew everything," Marshall said. "But that being said, we were still scoring very very well for the first 30 minutes of the game."
Grant also believes the bigs' versatility is an added element that made the game difficult for The Cougars.
"[Their versatility] is really valuable. Not only are they big, but they are seniors," Grant said. "I had tried to play my freshman in there, and he was overwhelmed with it, so I put another freshman in there and he did a little bit better job in the second half."
Monday night's game was Marshall's 353rd game as the coach at Wichita State, tying Ralph Miller's record.
The Shockers head to Maui for the Maui Jim Maui Invitational on Nov. 20.
About the Writer
Aliyah Funschelle, Sports Reporter
Aliyah Funschelle was a sports reporter covering men's basketball for The Sunflower. She's a junior studying sports management at Wichita State, and currently...